Are you a proud NATDA dealer member?
Date posted
January 28, 2021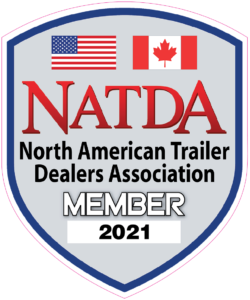 ST. PETERSBURG, Fla. — Show your support for the North American Trailer Dealers Association and the trailer industry by sharing the 2021 NATDA Proud Member logo on your website or Facebook Page!
All participating dealerships will be listed in the March/April NATDA Magazine and shared on our social media outlets. One lucky dealership will even WIN a digital Dealer Spotlight feature on www.natda.org.
HOW TO DOWNLOAD:
From your computer, right-click your mouse over the 2021 NATDA Proud Member logo and save the .PNG file to your computer or device. For additional file types and sizes or if you're having trouble, please email daria@natda.org.
HOW TO PARTICIPATE:
Option 1: Email daria@natda.org with the link to your website featuring the 2021 NATDA Proud Member logo
Option 2: Share this page and tag @NATDA4Trailers on Facebook by February 15, 2021
For more information, please email NATDA Marketing Coordinator Daria Tabota at daria@natda.org.