M.H. EBY Announces New Free Country Skirted Flatbed
Date posted
February 20, 2023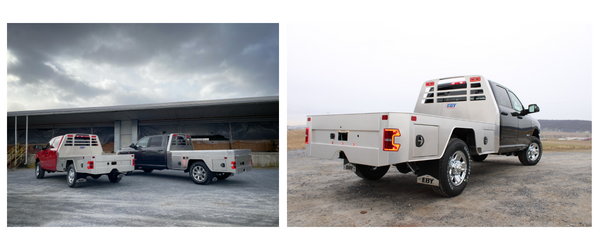 Blue Ball, PA February 2023 – M.H. Eby, Inc., a national builder of high-quality aluminum truck bodies and trailers based in Lancaster County, PA, is pleased to announce the launch of its new Free Country skirted flatbed towing body. The new truck body will be unveiled at the National Truck Equipment Association's Work Truck Week in Indianapolis in March. Free Country builds on the success of Eby's Big Country flatbed product line, which has been a favorite of farmers, ranchers, and commercial fleets for years.

"Free Country's styling is all about clean lines and amazing fit and finish," said Charlie Horton, VP of Sales at Eby. "Our design team wanted the all-aluminum side skirts and integrated cabinets to work hard and look great, and the result is a versatile piece of equipment that really catches the eye."

Eby added continuously adjustable tie-down brackets, a trap door for a gooseneck hitch, high-mount LED and work lights, and tapered rear corners to allow for maximum trailer swing.

Suggested by Eby employees, the Free Country name builds on the belief that hard work and creativity are essential to helping customers get more work done and succeed in an increasingly competitive world.

Distributors will be pleased to hear that Free Country installs easily and that all mounting equipment is included. Eby's aluminum truck bodies increase payload, save fuel, reduce maintenance costs, and last longer than steel.

Find out more about M.H. Eby's truck body and trailer products at www.mheby.com or by calling (800) 292-4752.

Headquartered in Blue Ball, PA, M.H. Eby builds high quality aluminum truck bodies and trailers, serving commercial and agricultural customers through its network of dealers and factory stores nationwide. M. H. Eby operates 3 manufacturing facilities and 8 sales and service centers in PA, OH, IA, IN, SD, MT, & NE.