FLOE International Introduces New Versa Max UT Trailer
Date posted
September 22, 2020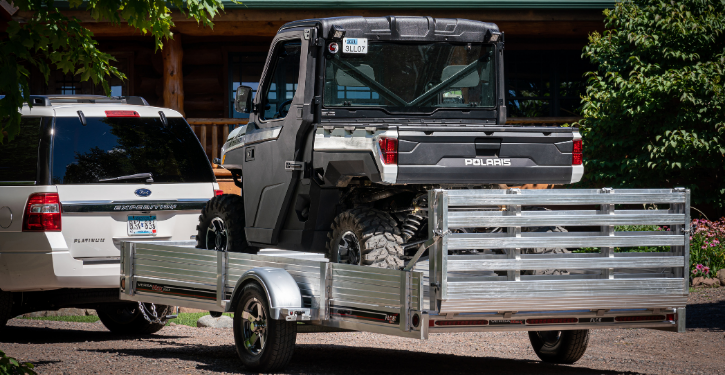 McGregor, Minn. - Nine-year NATDA Trailer Show exhibitor FLOE International has introduced a new product to its lineup, the Versa Max UT Trailer.
The new trailer is equipped with FLOE's patented Versa-Track system, allowing consumers to connect the trailer's heavy-duty tie-downs anywhere along the tracks and giving endless options when securing a load. A Quick-Attach track system around the edges allows for easy addition of 11" or 25" solid sides to 11" ramp sides for easy loading. The side ramps also incorporate FLOE's exclusive pin silencers, making it one of the quietest trailers in the industry.
According to one FLOE International representative, the new trailer is "the strongest and most dependable trailer on the market." The trailer also boasts a robust feature package while still being incredibly easy to tow.
Additional features include:
All aluminum construction for both work and play, the unit is made from 100% custom extrusions to provide a strong and rigid frame for years of trouble-free use
Features an independent rubber torsion suspension on a corrosion-resistant galvanized axle
A fast action tilt clamp keeps the trailer bed firmly in position and prevents rattling
Three loading modes, enabling loading of high to low clearance ATVs, UTVs lawnmowers and motorcycles
Heavy-duty bi-fold tailgate ramp to make loading fast and easy
Side-step near fenders for easy access to the trailer
Currently, FLOE International offers models in the following sizes:
10.5' x 79"
12.5' x 79"
14.5' x 79"
For more information, please visit www.floeintl.com.
---
About FLOE International
FLOE International has been a leader in aluminum recreational trailers since 1986 and is known to innovate and set new benchmarks in the industry. FLOE dealers benefit from FLOE's aggressive marketing, short lead times, and quality trailers backed by a 10-year limited warranty. Visit www.floeintl.com to learn more and discover how FLOE International will make you stand out from the competition.