EndeavourDek Expands to Meet Surge in Recreational Vehicle Demand
Date posted
October 20, 2020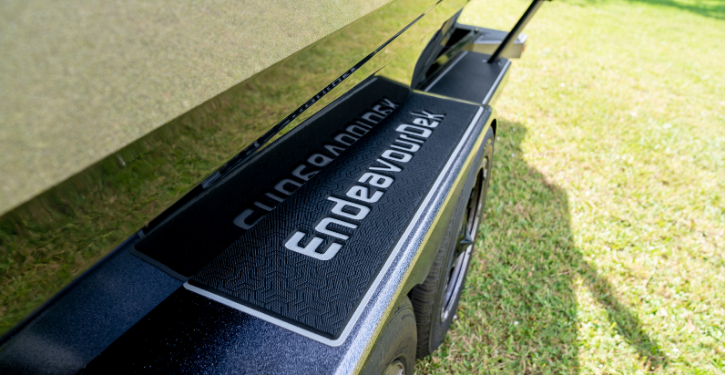 ROCKLEDGE, Fla. – EndeavourDek, the sister company of SeaDek Marine Products, announced the availability of two new products aimed at improving the safety and longevity of recreational vehicles as outdoor participation continues to climb: RV Step Pads and a heavy duty, wear-resistant version of its traditional non-skid material, EndeavourDek HD.
EndeavourDek has supplied trailer and RV manufacturers with custom non-skid products for years and is excited to provide RV owners with a safer, superior and more comfortable traction alternative to traditional step surfaces.
Utilizing a strategically formulated blend of PE/EVA foam, EndeavourDek HD features a durable outer shell that resists abrasion, punctures, and damage inflicted by heavy use, protecting high-traffic areas from scratches, chips, and dents. It is currently available in a 5 mm Storm Gray or Black single ply with a Tetrapod embossed surface texture, or as a laminate with any Classic EndeavourDek bottom layer to allow for custom logos, designs, and branding.
EndeavourDek RV Step Pads are available in 5 mm Storm Gray and Black single ply in following three sizes designed to fit most standard RV steps: 8" x 18", 8" x 20", and 8" x 23". Two individual steps are included in each package and feature a 3MTM pressure sensitive adhesive for easy peel-and-stick application.
For more information or to purchase EndeavourDek's latest retail offerings, please contact the EndeavourDek Sales Team at sales@endeavourdek.com or 321-210-7770.
---
About EndeavourDek
EndeavourDek was created by the makers of SeaDek to inspire outdoor enthusiasts to have as much fun on land as they do in the water. Backed by decades of R&D, EndeavourDek has been refined to weather the endeavour, be it taking the path, or making the path. Utilizing a strategically formulated blend of PE/EVA foam, EndeavourDek provides superior non-skid traction for trailers, recreational vehicles, golf carts, toy haulers, ATVs, and more. Thanks to its closed-cell, UV-protected formula, EndeavourDek does not absorb water, provides exceptional comfort underfoot, and stands up to the harshest conditions the terrestrial environment can dish out. Learn more at www.endeavourdek.com.
---
Source: EndeavourDek Press Release