City of San Diego Enlists Felling Trailers & Sourcewell for Fleet Transport Solution
Date posted
December 10, 2020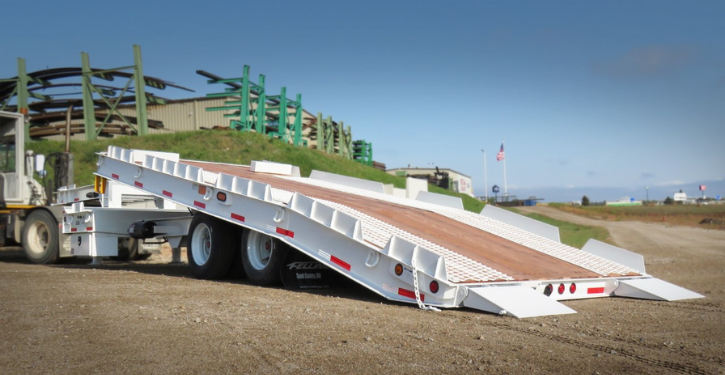 SAUK CENTER, Minn. - The City of San Diego enlisted Felling Trailers and Sourcewell to replace several aging trailers across several city agencies.
The trailer supplier that the City of San Diego worked with in the past was experiencing quality control issues and delayed delivery time. Paul Lull, Municipal Sales Rep an authorized Felling Trailers dealer in San Diego, Calif., had previously worked with the city and was aware of the issues they were experiencing. Felling Trailers holds the Sourcewell contract for heavy equipment trailers, making them a great fit to replace the previous supplier.
"The Sourcewell contract Felling holds was critical, as was the quality, wide product offering, service and product support from Clairemont Equipment and Felling in creating this partnership," said Lull. "When Pat Jennissen, Felling Trailers' VP of Sales & Marketing, contacted me about the meeting with the City of San Diego Fleet Operations Department and requested my presence, I was excited to help contribute to the connection," said Jed Klein of Sourcewell. The team worked together with the City's Fleet and Purchasing departments to develop a 5-year contract to supply the city's trailer needs. Since the contract went into effect in early 2020, the city has ordered 27 plus trailers.
With the contract in place, the Fleet Operations Fitting Department Supervisor needed to replace several aging trailers for the City's Water Department. The trailers were used to transport the fleet's Case 590SN and CAT 430F backhoe loaders to worksites to repair water line leaks and breakages. City operators wanted to stay with a similarly designed trailer, but also wanted to incorporate several changes to better serve their needs.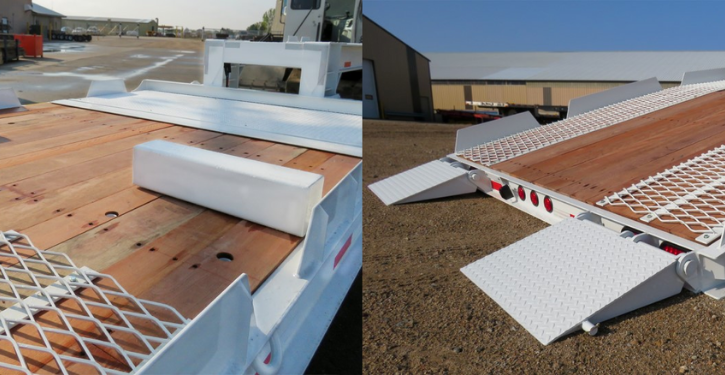 Felling Trailers representatives worked with the City's Fleet Operations to ensure the new trailer build incorporated operator safety and ease of use as top priorities. The trailers would often be used on narrow, sometimes winding streets with tight access points in day and night operations, so they worked with Felling Trailers' Engineering team to design a trailer that would suit the needs of the City's Water Department.
The completed trailers were FT-40-2 T deck-over tilts, designed and engineered to the City's custom specifications. The tilt trailers feature an H-frame gooseneck to provide needed swing clearance when maneuvering the trailers in the narrow streets. Safety features incorporated on the main tilt deck: expanded metal welded to flat steel bolted to the wood decking to provide ample traction no matter the environmental conditions, removable backhoe stops at 3', 4', and 5' on center, 6" reinforced safety lips on both sides of tilt bed with cutouts to access d-rings and side steps, anti-slip grip tape on all steps and deck entry points, and 24"x18" manual flip ramps covered with treadplate. The H-frame gooseneck incorporated expanded metal in the bottom of the H-frame along with a bucket rest with bucket stops and a 3" safety lip with multiple securement points.
For over 10 years, Felling Trailers has held a contract as an approved vendor with Sourcewell. Sourcewell is a government agency that holds hundreds of competitively solicited cooperative contracts ready for use, with Felling Trailers being one of them. Sourcewell members have the ability to purchase any of Felling Trailers' 240 trailer models at an exceptional value through Sourcewell's competitively solicited contract.
For further information, please visit www.felling.com and www.clairemontequipment.com.
---
About Clairemont Equipment
Clairemont Equipment has been satisfying Southern California's equipment needs since 1970. Clairemont Equipment is a family-owned and operated company run by Ron and Jerry Zagamin (co-presidents and brothers.) Since its inception, the Company has remained focused on its commitment to provide quality products supported by superior customer service. The success of Clairemont Equipment is due to the Zagami family vision, backed by personal commitment and dedicated employees' collective efforts. Teamwork and a commitment to excellence have allowed Clairemont Equipment to earn and preserve its customers' trust and confidence. Today, it has 5-locations: San Diego, Escondido, Fontana (Riverside & San Bernardino area), Imperial, and Indio, California.
About Felling Trailers, Inc.
Felling Trailers is a family-owned and operated Full Line Trailer Manufacturer located in Central Minnesota. Started in 1974, Felling Trailers, Inc. has grown from a small shop to a factory and office complex that today covers over 325,000 square feet. Felling's pride and differentiation is its customized trailer division. Its engineers utilize the latest industry-leading design techniques, and its experienced metal craftspeople use cutting-edge technology to turn its customers' conceptual trailer needs into a tangible product. Felling has been providing innovative trailer solutions to the transportation industry for over 45 years. Felling Trailers' current capabilities allow it to provide a high-quality product that is distributed across North America and internationally. Felling Trailers, Inc. is an ISO 9001:2015 Quality Management System Certified company, WBENC-Certified WBE company, and an Equal Opportunity Employer.
---
Source: Felling Trailers Press Release