Action RV Finds New Hire Through Partnerships with Facebook, Unemployment Office
Date posted
December 10, 2020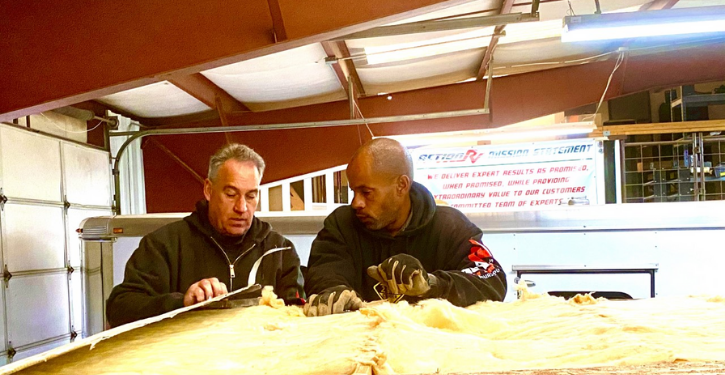 BOSQUE FARMS, N.M. – An innovative partnership with Facebook and New Mexico Workforce Connections helped Action RV discover their newest employee.
Being able to find the right person for the job is a challenge that many businesses face when trying to enhance their workforce. Sometimes, creative thinking and finding a new way to break through the clutter is just what's needed to help a potential employee match up with the right company.
The RV and trailer industry has faced increased staffing difficulties due to a nationwide shortage of trained technicians fueled by the sudden popularity of RVing. The RV industry is selling record numbers of RV's and needs more RV professionals, including trained technicians, to service and repair them. Action RV is feeling the employee shortage pinch. To help mitigate these issues, Action RV enrolled in a special pilot program through Facebook to find the next member of their team. Facebook launched a pilot program in New Mexico to place trained marketing interns in qualified businesses for on the job training and job experience for the interns' resumes. In a joint program of the Workforce Connection of Central New Mexico (WCCNM) and Facebook, an intern was placed with Action RV this past summer.
Action RV welcomed Jimmy O'Kelly, a former assisted living worker with no previous experience in the RV industry, as an intern through the WCCNM program. After meeting all of the assistance criteria, the company is proud to announce that they have officially hired Jimmy onto their permanent staff as Level One RV Technician.
"Out of 182 applicants, Jimmy O'Kelly really stood out against the other candidates, and we truly believe that this innovative partnership was the main catalyst that connected him to us," said Mark Podeyn, owner of Action RV. "I would encourage any business owner to pursue an opportunity like this and take full advantage of the program's assistance."
As part of this partnership, New Mexico Workforce Connections pays a significant portion of O'Kelly's wages while he is in training at Action RV and a higher-level RV technical institute (RVTI) through a grant of up to $9,000.
"This pandemic has hit everyone hard, and agility during times of adversity has become increasingly important," said Podeyn. "This program allowed both Action RV and Jimmy the space to try something new and resulted in Jimmy being able to learn valuable skills in a new career, while getting my company the help we needed. It's been a win/win situation."
For further information, please visit www.actionrv.com.
---
About Action RV
Action RV is an independent aftermarket service, accessory and parts provider that serves the needs of RV owners and enthusiasts. Action RV provides maintenance, repairs and custom renovations to retail, commercial and government customers.
---
Source: Action RV Press Release