Weigh Safe Announces Its "Safe & Secure" Promotion: End-Consumers Can Receive Free Keyed Alike Locks
Date posted
September 13, 2023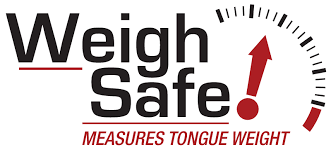 Lindon, Utah - Weigh Safe, a manufacturer known for their hitches with a built-in scale that measures tongue weight to improve safety and towing performance and many other towing products and accessories, recently announced their "Safe & Secure" promotion. The promotion, which is active through October 31, 2023, offers end-consumers FREE Keyed Alike Lock options with the purchase of a qualifying Weigh Safe or 180 hitch.
Dealers who sell Weigh Safe products can participate in this promotion, which applies to over 150 models of hitches offered by the company. When end-consumers purchase any qualify hitch between August 1, 2023 – October 31, 2023, they can redeem the offer by scanning a QR code found on the flyer, providing proof of purchase, and paying a $5.99 shipping fee for their choice of either one of two lock options: Hitch Locking Pin (WS05), Coupler Latch Lock (WS11) and Padlock (WS12) combination valued at $60 or a Trailer coupler Ball Lock (WS22) valued at $65. All can be Keyed Alike to the hitch the end-consumer purchases.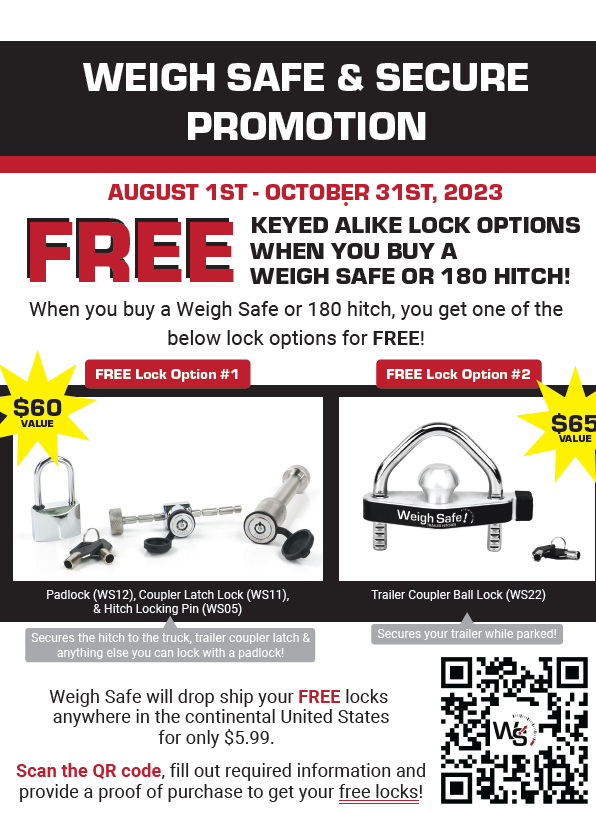 Existing Weigh Safe Dealers can participate in this promotion during the promotional period and may download promotional materials, which includes a list of the qualifying hitches, here. Dealers interested in offering Weigh Safe products can purchase them through their preferred distribution partner or register to become a Weigh Safe Dealer at https://www.weigh-safe.com/new-dealer-registration. The best part is that Weigh Safe and the end-consumer do most of the work! Dealers only have to be familiar with the program, place the flyer somewhere noticeable, and sell a Weigh Safe or 180 hitch. Weigh Safe will drop ship the FREE products directly to the customer and process the shipping payment.
About Weigh Safe:
Weigh Safe is a Utah-based Manufacturer focused on helping companies and individuals tow safely and properly by knowing their tongue weight. Our patented built-in tongue weight scale allows towers to accurately balance the load on their trailers to achieve Towing Peace of Mind. Knowing your tongue weight and loading the trailer correctly, will not only allow people to tow safer but improve the performance of the vehicle and trailer and enhance the towing experience. This built-in scale technology has expanded from our NATDA & SEMA Award winning Weigh Safe Adjustable Ball Mount to Weight Distribution, 5th Wheel, Gooseneck towing & more. For more questions, please email sales@weigh-safe.com or call 801-820-7020.