Roger Magers Bids Adieu to the Equipment Industry After More than 45 Years
Date posted
January 6, 2021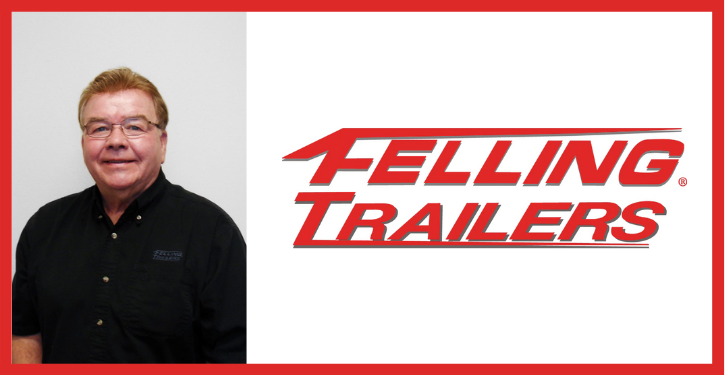 SAUK CENTRE, Minn. – Roger Magers, Felling Trailers' Southwestern Regional Sales Manager, was part of the equipment industry for over 45 years and retired at the end of 2020.
Of Magers' 45 years in the industry, 30 years were spent selling trailers; 18 years with Towmaster and the last 11 years with Felling Trailers. Roger joined the Felling Trailers team in February 2009 as the Western U.S. Regional Sales Manager to provide dealer support for eleven states. In the fall of 2019, Magers reduced his coverage area to the Southwestern United States to be able to focus on the growing dealer base in the New Mexico, Arizona, California and Nevada regions.
As the trailer sales increased, the facility and production team followed suit growing from 125,000 sq. ft. to 325,000 sq. ft. and a production team of nearly 300. "Roger has been a great asset to Felling Trailers since he joined the team in 2009. His vast market and product knowledge, experience, and dedication are greatly appreciated. We wish him well in his retirement!" said Nathan Uphus, Felling Trailers' Sales Manager. Magers recently worked with a Felling Trailers' dealer to develop a 5-year contract utilizing Felling Trailers' Sourcewell contract to supply trailers to a large Californian municipality.
"Stepping away from the life of being a "trailer salesman" may take some getting used to. For Roger and probably many other salespeople, it's not just about the sale. It's about the relationships you build with your customers. As for us here at Felling Trailers, we thank you for your service. You have played a big part in what Felling Trailers is today. Enjoy retirement, Roger!" said Pat Jennissen, Felling Trailers VP of Sales & Marketing. "Thanks for the Memories!" said Roger Magers.
For more information about Felling Trailers, please visit www.felling.com.
---
About Felling Trailers, Inc.
Felling Trailers is a family-owned and operated Full Line Trailer Manufacturer located in Central Minnesota. Started in 1974, Felling Trailers, Inc. has grown from a small shop to a factory and office complex that today covers over 325,000 square feet. Felling's pride and differentiation is its customized trailer division. Its engineers utilize the latest Industry-leading design techniques, and its experienced metal craftspeople use cutting-edge technology to turn its customers' conceptual trailer needs into a tangible product. Felling has been providing innovative trailer solutions to the transportation industry for over 45 years. Felling Trailers' current capabilities allow them to provide a high-quality product that is distributed across North America and internationally. Felling Trailers, Inc. is an ISO 9001:2015 Quality Management System Certified company, WBENC-Certified WBE company, and an Equal Opportunity Employer.
---
Source: Felling Trailers Press Release