Polar King Mobile Readies Delivery of 2022 Refrigerated Trailer Line
Date posted
December 10, 2021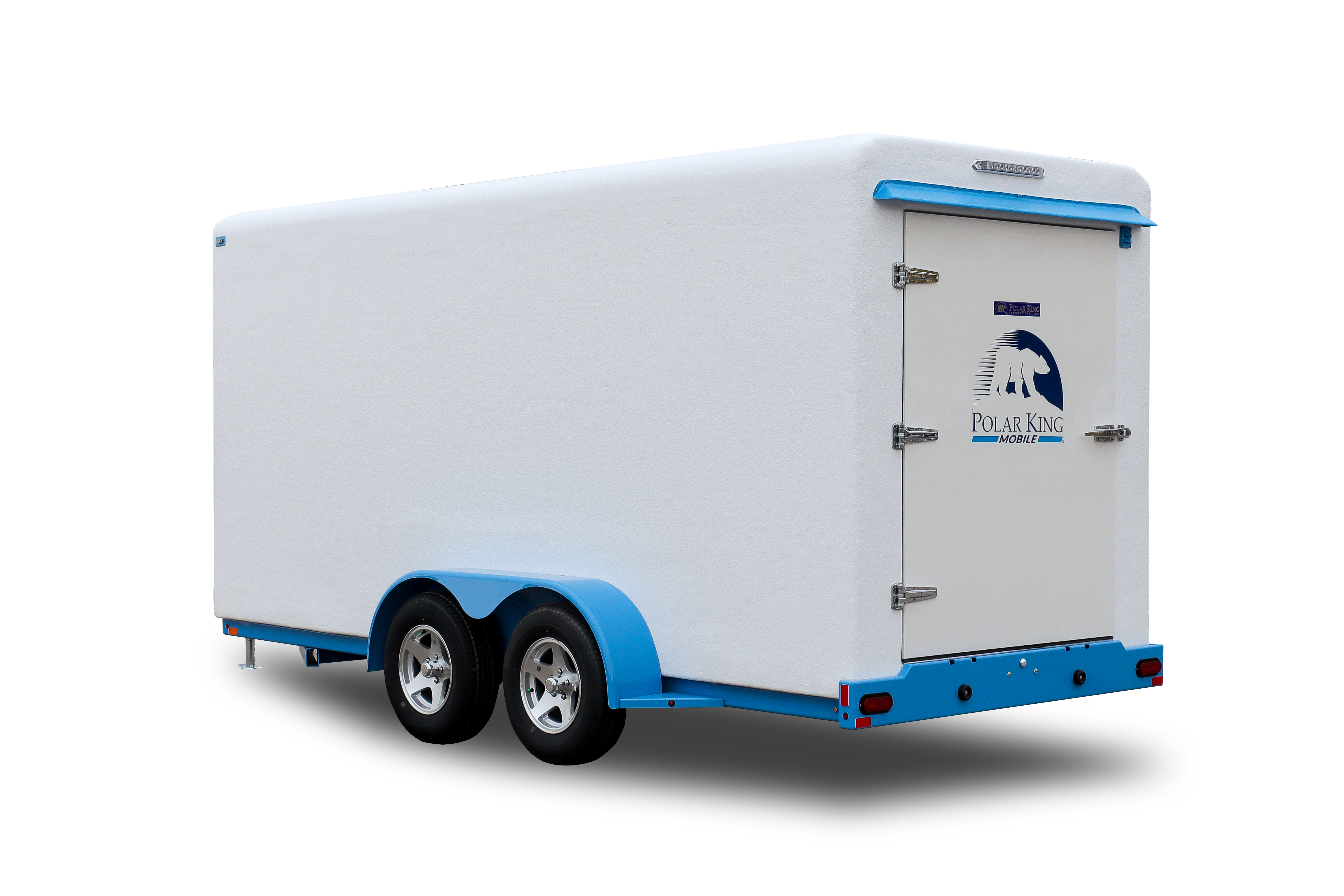 ---
FORT WAYNE, Ind. — Polar King Mobile (PKM) announced its 2022 line of popular refrigerated trailers to its nationwide dealer network, responding to increased demand from all segments of customers looking for affordable refrigeration solutions.
"Most of our product updates are the result of extensive market research data obtained by communicating with our dealer network," said Christian Aitken, Polar King Mobile Executive Vice President. "Our 2022 models are rolling down the production line with added features that our dealers have requested, which ultimately drives more customer satisfaction."
Polar King Mobile is once again making available three compact all-electric models which provide a temperature range of 0 degrees F to 50 degrees F and require only 110V and 15 amps. The company has announced modifications to its PKM68 trailer (6-foot by 8-foot), bringing that model more in line with its larger PKM612 (6-foot x 12-foot) and PKM616 (6-foot x 16-foot) portable units.
The PKM68 model for 2022 now has a heavier-duty axle, increasing weight capacity from 3,500 pounds to 6,000 pounds while boosting payload from 1,500 pounds to 3,000 pounds. The company also added dual e-tracks to the inside of the trailer.
All three models now offer 54-inch reinforced doors, four-inch walls, pallet duty floor, interior antimicrobial gel coating, and dual e-track ready walls. The actual cooling of the trailers is achieved using a GOVI arktik 2000US series refrigeration unit. According to the company, validation testing shows that all three trailers hold 0-degree F (-18 degree C) in 95-degree ambient temperatures.
"Our refrigerated trailers are a perfect solution for athletic events, cold rooms, commercial beer coolers, emergencies, and country fairs," says Aitken. "They are also used extensively for government, grand openings, hospitals, hunting, K-12 and post-secondary schools, mortuary, new construction sites, remodel & replace, rental, restaurants and more." The Polar King Mobile refrigerated trailers are designed specifically for outdoor and over-the-road use. Polar King's 100 percent seamless fiberglass design provides a continuous surface with rounded insulated corners to promote a sanitary environment. The durable, NSF-approved non-slip flooring system greatly reduces the risk of slips and falls. Since each unit is completely seamless, it can quickly be cleaned with a hose and there's no risk of damage to the insulation.
Aitken concludes, "We are creating a national network of value-added resellers by recruiting the best trailer distributors from the North American Trailer Dealers Association." He adds, "A national network of experienced and reliable dealers will provide the kind of fast, professional and knowledgeable service that our customers want."
To learn more about Polar King Mobile, visit polarkingmobile.com or call 260-428-2589. Potential dealers or early adopters should email Christian Aitken at christian.aitken@polarking.com.
About Polar King
Polar King began operations in early 1982 by constructing and shipping walk-in units from a modest 12,000 sq. /ft. facility in New Haven, Indiana. As demand grew for outdoor fiberglass commercial walk-in coolers and commercial walk-in freezers, production moved to a 204,000 sq. ft. facility located in Fort Wayne, Indiana. For nearly 40 years, Polar King has provided thousands of units to single unit operators, chain restaurants, schools, health care facilities, government agencies and many other industries requiring dependable outdoor walk-in refrigeration.