M. H. EBY Awarded RAM Bailment Pool
Date posted
April 13, 2021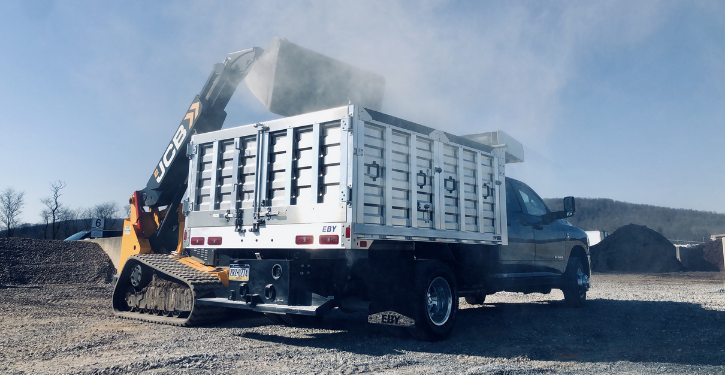 ---
BLUE BALL, Penn. — M.H. EBY. Inc. announced that it has been awarded a RAM bailment pool for its Pennsylvania manufacturing and sales operations.
The RAM bailment pool will allow EBY to provide quick installation of its flatbed, landscaping, service, van and custom truck bodies on RAM chassis. Over the years, EBY has built strong relationships with RAM commercial truck dealers, providing a wide variety of aluminum truck bodies to RAM Business Link and Certified Agriculture Dealerships through EBY factory stores and its distributor network.
"Our approach has always been to build and inventory standard products for faster availability," said Charlie Horton, VP of Truck Body Sales for EBY. "Having RAM work truck chassis on the ground and available to RAM dealers will be a huge advantage for our customers."
EBY's approach to design and manufacturing centers on the highest quality, longest lasting truck bodies. Flexible tooling drives a wide product line that includes highly customized equipment designed for the railroad, tree care, utility, and home delivery markets.
"EBY's emphasis in each of these markets is to improve operator safety and productivity," Horton continued. "RAM's product line-up and sales organization make it a terrific partner to focus on that mission and continue our rapid growth."
To learn more about M.H. EBY, please visit www.mheby.com or call 800-292-4752.
About M.H. EBY
Based in Lancaster County, PA, M.H. EBY designs and builds high quality aluminum trailers and truck bodies for agricultural, industrial and commercial markets. In the trailer market, EBY builds livestock trailers, grain trailers, equipment trailers and horse trailers. For the truck body market, EBY builds flatbeds, service bodies, van bodies and dump bodies. Products are sold nationwide by dealer and distributor partners with strong roots in their local communities. Started in 1938, the company is led by Travis Eby, President, and Nick Eby, VP of Engineering. Menno H. Eby serves as chairman.
---
Source: M.H. EBY Press Release