CM Truck Beds Introduces New Hotshot Trucking Body
Date posted
October 6, 2020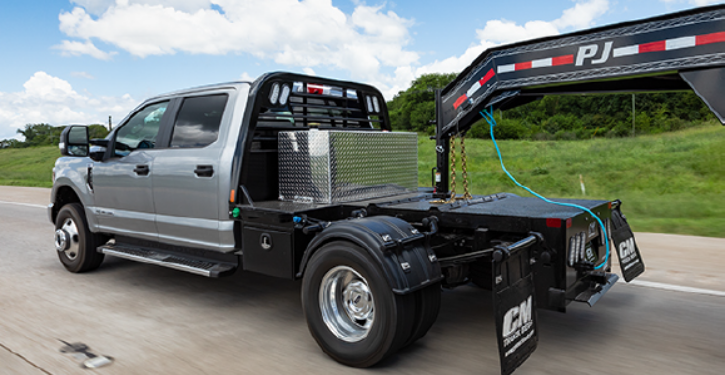 KINGSTON, Okla. - CM Truck Beds has added another innovation to its lineup with the debut of the specialized Hotshot model. This single-piece steel truck body is designed for ultimate strength and durability, with the industry's best hauling capacity and an array of standard features that deliver convenience, safety and ease for hotshot truck drivers.
"For hotshotters looking to beat the clock with a highly efficient and powerful rig, CM's new Hotshot is the answer," said CM Vice President Joe Lewis. "It's not only built tough and built smart, it also complements any truck with its sleek, head-turning appearance and precision-engineered fit."
One of the Hotshot's standout features is its hauling capacity: The bed is rated for a whopping 30,000 pounds in both the gooseneck and 5th-wheel configurations, thanks to an exclusive partnership with CURT trailer hitches. For drivers with a lot of ground to cover and heavy loads in tow, the Hotshot's capabilities are unsurpassed.
It also comes loaded with premium standard features not commonly found on a hotshot model — including integrated LED lighting backed by a lifetime warranty; CM's single-piece tubular steel headache rack, ensuring safety and durability; and two integrated toolboxes with T-handle compression latches and automotive weatherstripping, providing a secure place to stash tools and necessities. Plus, CM's unique Fuel Deck feature supports fuel tanks up to 18" deep, eliminating extra stops at the pump and saving drivers valuable time.
"Hotshot trucking is a growing profession, with more and more people starting their own delivery services," said Lewis. "Many of our competitors are using kits, but real hotshotters don't want a kit — they want the real thing! This solution is not only great for the customer, but easier for our distributors to install."
Trusted by professionals as the premier source for high-quality truck beds and service bodies that go the distance, CM Truck Beds offers superior product availability and the fastest lead times on the market. "The Hotshot model is the latest example of our commitment to building top-quality, work-ready products that meet the specific demands of our customers," said Lewis. "Hotshot drivers now have a safe solution for their hauling needs."
CM's new Hotshot isn't limited to only truck bed distributors, however. For trailer dealers looking to help customers transport within DOT regulations, the Hotshot body has a major advantage as it allows customers to register their truck as a tractor, thereby increasing load lengths.
"When trailer dealers are selling dual tandem gooseneck trailers in excess of 35 feet, our new CM Hotshot body helps their customers transport legally within commercial length regulations." said Lewis. "This solution is great for trailer dealers who sell into the hotshot market as they can capitalize with a profitable add-on-both on the sale of the body and also in their service facilities."
For complete product details, please CLICK HERE.
---
About CM Truck Beds
Headquartered in Kingston, OK, CM Truck Beds is the market leader in flat-deck truck body manufacturing. Founded in 1990, CM has consistently manufactured work truck and ranch bodies marketed to fleets, municipalities and end users. Originally a family owned business, CM Truck Beds is now part of ATW, a Bain Capital portfolio company. CM manufactures beds in more than 350,000 square feet of facilities in three locations across southern Oklahoma. CM's bandwidth spans steel and aluminum truck bodies, with nearly 15 models of flat decks in addition to two service body models. Consistently viewed as the toughest, most rugged bodies in the marketplace, CM is a superior option for towing as hitches are always a key feature of its bodies. Further, CM offers the best looking flat beds on the market because they're designed to fit the contours of the OEM chassis. CM Truck Beds currently distributes to more than 300 distributors across the U.S. and Canada. For more information, visit www.cmtruckbeds.com.