Trailer Alarms, LLC Develops Requested Security System
Date posted
April 16, 2021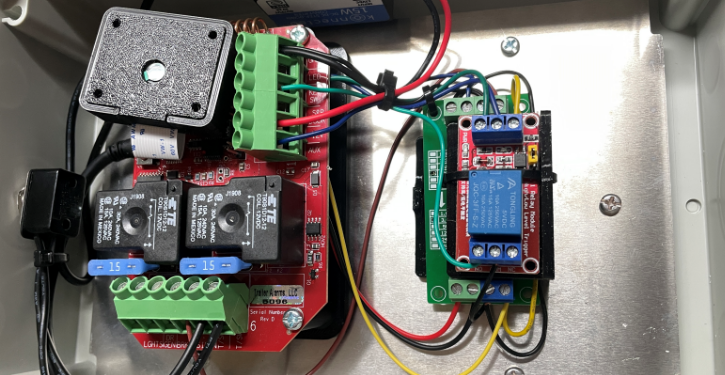 ---
NEW BRAUNFELS, Texas — Trailer Alarms, LLC took a customer's request for a security system and ran with it, creating the PTS-2W for customers' security needs.
During the pandemic of 2020, a new customer of Trailer Alarms asked if they had a security system with cameras. They were also asked if they had a system that would work with the company's existing WiFi so the customer would not have to pay any additional fees. Unfortunately, at the time, 'no' was the answer to both questions, but owner Lyle Clark decided to take on the challenge.
"I had seen several projects on the web using Raspberry Pi's, but none that would do what we were hoping for," Clark explained.
As he did more research and reached out to several programmers, both in the United States and abroad, Clark found a programmer that met his qualifications and was ready for the project. Seven months later, after testing Arduino and different RPi units and different programming languages, a proof of concept and the PTS-2W unit were created.
Next came the task of finding a container/box to mount the components in so the end user could easily do the installation. Ten different boxes were purchased and tested until one met the approval of Clark.
"I wanted to make sure that there was plenty of room in the box to install the normal wires for the alarm, but I didn't want something so big that it would be hard for the customer to find a place to mount," shared Clark. Custom designed mounts were made with 3D printers, and a smaller size box was utilized.
The system installs like the other PTS-2 alarm systems, but it does need someone to connect it to a monitor and keyboard do some guided programming. The unit will need to be programmed with the WiFi SSID and the contact information for those to whom the alerts are to be sent, along with a short 15 second video showing when the alarm was triggered.
For more information or to order, please call 877-604-7381 or visit trailer-alarms.com.
About Trailer Alarms, LLC
Started in 2005 as a web-based trailer security company, Trailer Alarms has come to be the best provider of theft prevention devices for trailers. 16 years later, Trailer Alarms, LLC has become the true leader in theft prevention devices for trailers and more.
---