TecNiq Inc. Announces Clearance Marker and Ramp Light Combo
Date posted
December 10, 2020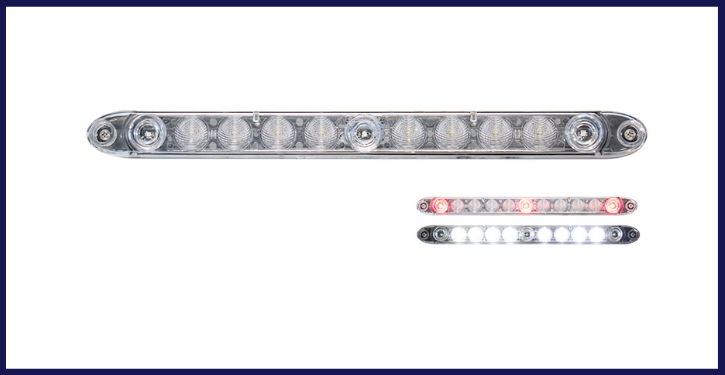 GALESBURG, Mich. - TecNiq Inc. announced the new T14 80" Identification & Ramp Light to make truck illumination safer and easier with a single installation.
With truck and trailer lighting, there's a big difference between DOT compliance and illumination that makes a job easier and safer. The new T14 80" Identification & Ramp Light from TecNiq fulfills the requirements of an over 80" ID clearance marker and delivers the blazing flood of LED light needed when lighting in loading areas is lacking—all in one easy to install fixture that's guaranteed for life.
The T14 80" Identification & Ramp Light throws a commanding 500 lumens of bright, white LED light. TecNiq's advanced lens design directs the light where it's needed most, flooding the area in a side-to-side 140° arc and down 90° to the ground. Built to last, TecNiq's T14 80" Identification & Ramp Light has a hermetic seal to be IP68-rated dust and waterproof. TecSeal urethane potting ensures circuit board protection. Its high impact-resistant polycarbonate lens offers excellent durability and UV resistance, and comes with a lifetime guarantee. The white LEDs have a 50,000-hour service life—that's close to six years of non-stop use. The reds boast an astounding 11 years.
Surface mounted with two screws, the T14 80" Identification & Ramp Light is 15.5" long, 1.25" high and 0.5" thick, and comes with an 8.5" pigtail connection for easy installation. It meets FMVSS 108 standard for wide and narrow vehicles; red LEDs provide for the rear clearance marker.
For further information, please email sales@tecniqinc.com or visit www.tecniqinc.com.
---
About TecNiq, Inc.
TecNiq, Inc. provides quality LED lights for the trailer lights for both interior and exterior needs. TecNiq, Inc. products include construction trailers, light-duty trailer interiors and exteriors, to fleet and emergency response vehicles, boats and heavy or light duty equipment and are backed by a lifetime guarantee. TecNiq, Inc. products are engineered, designed and assembled in the U.S.A.
---
Source: TecNiq Press Release