Sundowner Trailers Announces RV/ToyBox Showcase in February
Date posted
January 7, 2021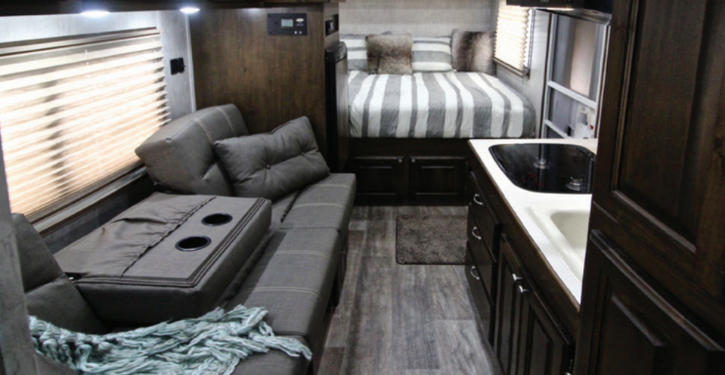 COLEMAN, Okla. – Sundowner Trailers announced a trailer showcase at the Choctaw Event Center in Durant, Okla from February 1 through February 5, 2021.
The showcase will be a chance to see the entire lineup of Sundowner Trailers' TrailBlazer Camper Series and Toy Box Series, which both had a tremendous response since their introduction in August 2020. Sundowner Trailers answered the demand for a well-built, towable RV that's easy to live in, handle and afford with the TrailBlazer. The development of both an RV and Toy Box Series allowed the company to offer convenient sizes and great prices. Features like the all-aluminum frame, chassis and one-piece roof make the models easier to tow and provide convenient access with lower step-in height. All five models are fully equipped with user-friendly features and maximum storage. The TrailBlazer Showcase provides dealers the opportunity to safely view the lineup under one roof.
Due to Sundowner Trailers' long history of success in the trailer market, it is now offering a 3-year Hitch-to-Bumper Warranty. For the safety of everyone, the event will be COVID-19 compliant.
For further information, please email ron@sundownertrailers.net or visit www.sundownertrailer.com.
---
About Sundowner Trailers
As the industry leading horse trailer manufacturer, Sundowner Trailers is recognized for their pioneering innovation in aluminum trailers — with and without living quarters. They have applied this know-how to creating transport trailers for recreational and business use. In fact, Sundowner's cargo trailers, utility trailers, car haulers including the most popular Xtra Series Transporter and the Pro-Grade Toy Haulers all reflect this commitment to innovation. Since 1976, tens of thousands of Sundowner trailers have been pulled throughout the United States and Canada. Their commitment to responding to change in a positive, pro-active manner has remained strong and kept them at the forefront of innovation and design. Today, more than ever, Sundowner Trailers is America's Trailer.
---
Source: Sundowner Trailers Press Release