New LOCTITERXPLORE E-Learning Platform Brings Knowledge to Industry Professionals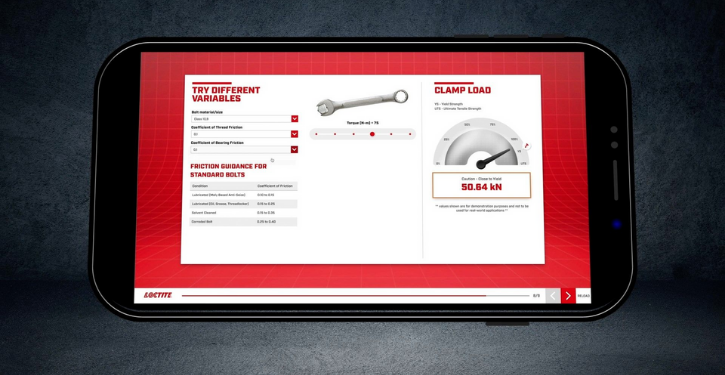 ROCKY HILL, Conn. – Henkel unveiled its new LOCTITEXPLORE e-learning platform, which offers the collective learning of its experts to industrial manufacturing and design, maintenance, repair and overhaul, engineering and vehicle repair and maintenance professionals, anywhere, anytime.
Developed for desktop, tablet and mobile experiences, LOCTITEXPLORE is free for all users and modules can be completed at the learner's own pace. It will also house live learning sessions to help participants make informed decisions within
their area of expertise.
LOCTITEXPLORE currently offers two modules, with new topics in development:
How to increase reliability and prevent threaded assembly failures using threadlockers
How to increase safety and avoid common application pitfalls in windscreen bonding
"The LOCTITEXPLORE content is based on the accumulated knowledge of more than 65 years of practical expertise and we're excited to share it with industry professionals as an extension of our unparalleled services," said Eric Saunders, Vice President of Global Head of Marketing and Strategy. "The platform, with its animation and engaging characters, gives a twist to traditional e-learning modules. Learning should be fun, so we've built LOCTITEXPLORE with that experience in mind."
Begin your learning experience with three easy steps here. Sign up, validate your email and log-in to your personal landing page.
For more information, please visit www.henkel-northamerica.com.
About Henkel in North America
In North America, Henkel operates across its three business units: Adhesive Technologies, Beauty Care, and Laundry & Home Care. Its portfolio of well-known consumer and industrial brands includes Schwarzkopf® hair care, Dial® soaps, Right Guard® antiperspirants, Persil®, Purex®, and all® laundry detergents, Snuggle® fabric softeners as well as Teroson®, Technomelt® and Bonderite® adhesives. With sales of around 6 billion U.S. dollars (5 billion euros) in 2019, North America accounts for 26 percent of the company's global sales. Henkel employs approximately 9,000 people across the U.S., Canada and Puerto Rico.
About Henkel
Henkel operates globally with a well-balanced and diversified portfolio. The company holds leading positions with its three business units in both industrial and consumer businesses thanks to strong brands, innovations, and technologies. Henkel Adhesive Technologies is the global leader in the adhesives market – across all industry segments worldwide. In its Laundry & Home Care and Beauty Care businesses, Henkel holds leading positions in many markets and categories around the world. Founded in 1876, Henkel looks back on more than 140 years of success. In 2019, Henkel reported sales of more than 20 billion euros and adjusted operating profit of more than 3.2 billion euros. Henkel employs more than 52,000 people globally – a passionate and highly diverse team, united by a strong company culture, a common purpose to create sustainable value, and shared values. As a recognized leader in sustainability, Henkel holds top positions in many international indices and rankings. Henkel's preferred shares are listed in the German stock index DAX.