NATDA Excited to Welcome Dealers to an 'Open' Nashville for NATDA Trailer Show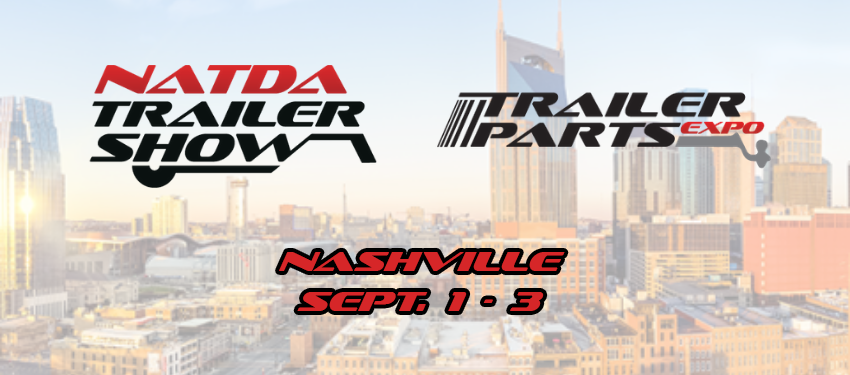 ---
ST. PETERSBURG, Fla. – After on-site meetings to assess the state of Nashville for the 2021 NATDA Trailer Show, the North American Trailer Dealers Association is excited to kick off the trailer and truck bed industry's trade show season with a fully 'open' event.
NATDA's Director of Operations and Events, Andria Gibbon, CEM, Director of Sales, Karen Anderson, and Director of Marketing, Corey Langley, flew into Nashville in early June to meet with Music City Center and Visit Music City representatives as well as visit multiple high-traffic tourist destinations. NATDA's representatives were informed that the city has lifted all mask requirements and that the city is overwhelmingly "back to normal."
"Nashville's lifting of its mask mandates is the final indication that the city is undeniably safe for our attendees," said NATDA President Andy Ackerman. "It is important that our attendees are able to have the full-fledged Nashville experience just as they did in 2016. We are overjoyed to report that that will be the case in 2021."
During their visit, the NATDA team visited multiple attractions within walking distance of NATDA's contracted hotels to ensure dealers' overall safety, including the Music City Center, multiple locations within the Broadway entertainment district, Ole Smoky Moonshine Distillery, the Country Music Hall of Fame and more. While many locations had COVID-safety measures, such as additional hand sanitizing stations, all locations were opened to full capacity.
To register or to learn more about the 2021 NATDA Trailer Show, please visit natda.org or call 727-360-0304 or speak with an NATDA representative.
ABOUT NATDA
NATDA (North American Trailer Dealers Association) serves the light and medium-duty trailer industry by connecting dealers, manufacturers and suppliers together through a host of beneficial and educational platforms. From printed publications like its bi-monthly magazine and annual buyer's guide to the annual NATDA Trailer Show, NATDA's promotional outlets result in abundant networking opportunities with high-quality, industry-specific contacts.
ABOUT THE NATDA TRAILER SHOW
One of the most-sought-after shows in the trailer industry, the NATDA Trailer Show, formerly the NATDA Trade Show & Convention, has become the one-stop-shop for light and medium-duty trailer industry professionals for over a decade. Trailer categories including ATV, boat, car hauler, cargo, concession, dump, enclosed, fifth wheel, flat bed, gooseneck, heavy equipment, heavy utility, horse, livestock, living quarter, motorsports, overland, race, RV/toy hauler, snowmobile, tilt, towable RV, truck bed and utility are all represented.