Healing with Honor, Felling Trailers Announces 2022 Trailer for a Cause Auction Dates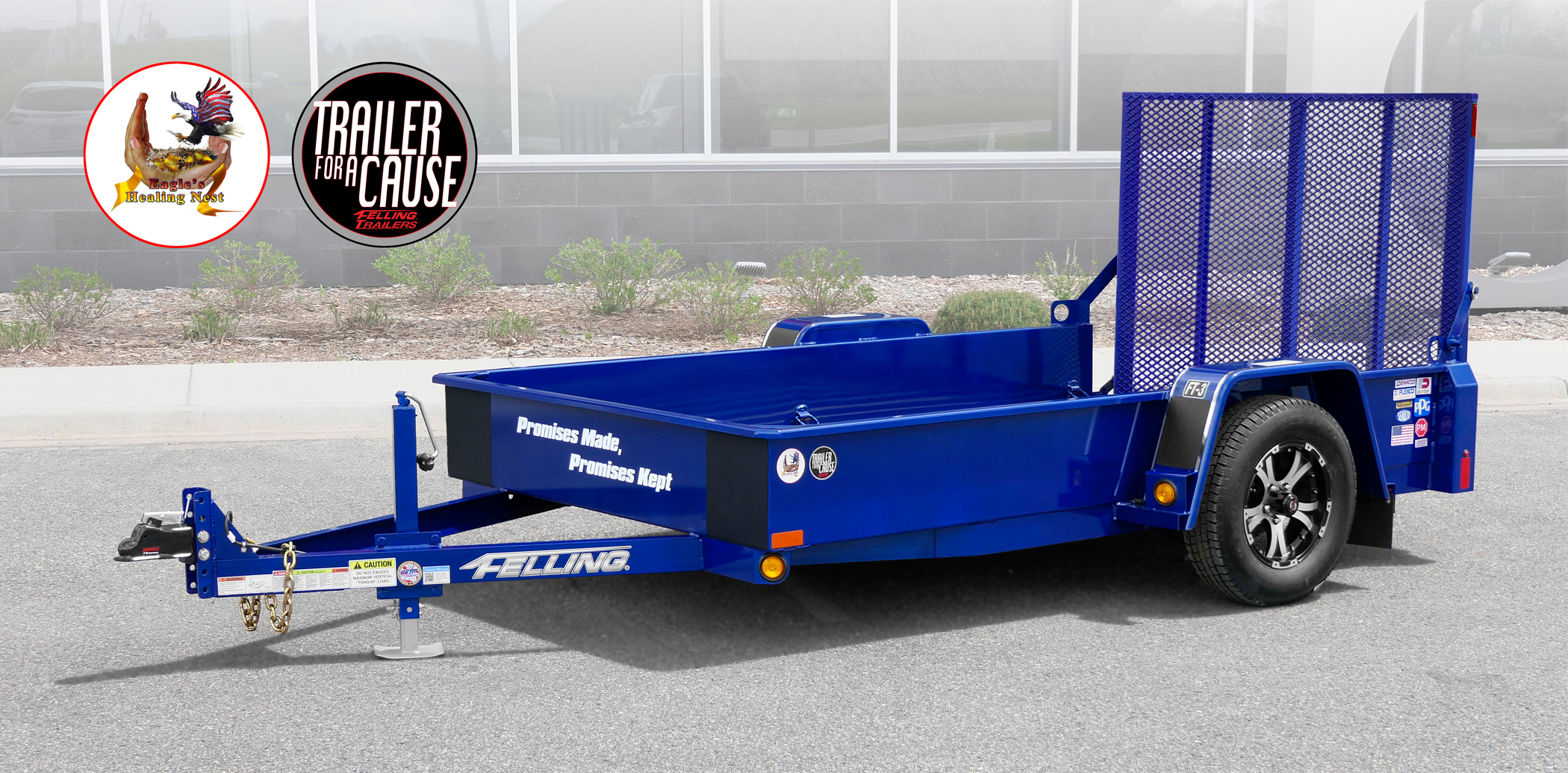 ---
SAUK CENTRE, Minn. – Felling Trailers, Inc. is conducting its tenth annual online auction of an FT-3 drop deck utility trailer to benefit a non-profit organization. Eagle's Healing Nest is the 2022 recipient.
Felling Trailers wants to help generate awareness about the invisible wounds of war that our veterans carry. Thus, Felling Trailers manufactured and painted one of its most popular trailers, custom metallic "Patriot Blue" with chrome pinstriping and bears Eagle's Healing Nest's emblem along with its credo "Promises Made. Promises Kept." The online trailer auction will run for six days: August 22nd through August 27th. Several Felling Trailers' suppliers have joined to support Eagle's Healing Nest by sponsoring the trailer build, from lighting to tires to decking. The 2022 Trailer for a Cause sponsors are Trans-Texas, PPG, Dexter, Sealco, Peterson, Industrial Wood (Blackwood), Demco, Pacific Rim, and Metal Crafters/Flexco. One hundred percent of the winning bid will benefit Eagle's Healing Nest!
Founder Melony Butler created the Nest to be a place of peace and healing for veterans struggling from a host of issues ranging from depression, anxiety, PTSD, decades of homelessness, to addictions of many sorts. Veterans come to the Nest to heal with honor from the invisible wounds of war and time of service. Eagle's Healing Nest is located in Sauk Centre, Mn, on 124 acres with 24 buildings. Originally Minnesota Home School for girls, a veteran's healing center came to life out of an old dormitory. Melony opened the Eagle's Healing Nest in 2012 with two functional buildings. She stated, "We will build the Nest one branch at a time until it is complete! A place to call home and a place to Heal with Honor!" Since that time, with donations from various organizations, veterans, and volunteers contributing what they can, they have been able to renovate 21 of the 24 buildings on site. When the last of the buildings are complete, the Nest will be able to house 180-200 veterans, service members, and their families.
The Trailer for a Cause auction will start on Monday, August 22nd at 7 am, run for six days, and end Saturday, August 27th at noon at Eagle's Healing Nest's Nest Fest. The Eagle's Healing Nest is a non-profit organization that receives no government funding. Nest Fest is one of a few fundraising events the Nest hosts yearly. Now in its 9th year, the volunteers and residents of the Nest open their doors and hearts to the community with Veteran made crafts, silent auction, bake sale, tours, and new this year, the Trailer for a Cause auction. The online auction can be viewed at felling.com/our-company/trailer-for-a-cause/. Arrangements to be made for pick up at Felling Trailers' manufacturing facility or delivery (freight extra).
About Eagle's Healing Nest
Eagle's Healing Nest - Healing Veterans, Soldiers, and Families from invisible wounds of war from the inside out! A promise to one and a need of many was what created the vision of "Eagle's Healing Nest." The "Eagle" represents the past, present, and future military strength, independence, pride, and honor. The "Nest" is full of meaning such as home, family, brotherhood, safety, and security. The "Hands" cradling the Nest represents the many that will wrap their support and give services to the veterans and military members to help reintegrate them back to their families and into their communities.
It is the vision and hope to never have those who served in our military to live in darkness but to bring them into the light to soar and fly free. To help restore the honor, dignity, pride, and purpose each deserves.
For additional information about the Eagle's Healing Nest, visit eagleshealingnest.org.
About Felling Trailers, Inc.
Felling Trailers is a family-owned and operated Full Line Trailer Manufacturer located in Central Minnesota. Started in 1974, Felling Trailers, Inc. has grown from a small shop to a factory and office complex that today covers over 325,000 square feet. Felling's pride and differentiation is its customized trailer division. Its engineers utilize the latest Industry-leading design techniques, and its experienced metal craftspeople use cutting-edge technology to turn its customers' conceptual trailer needs into a tangible product. Felling has been providing innovative trailer solutions to the transportation industry for over 45 years. Felling Trailers' current capabilities allow them to provide a high-quality product that is distributed across North America and internationally. Felling Trailers, Inc. is an ISO 9001 Quality Management System Certified company, WBENC-Certified WBE company, and an Equal Opportunity Employer.
For more information, contact  sales@felling.com, or visit them on the web at felling.com.