Felling Trailers' Pan "Gravity" Tilt Trailers Receive Design Modifications
Date posted
October 28, 2022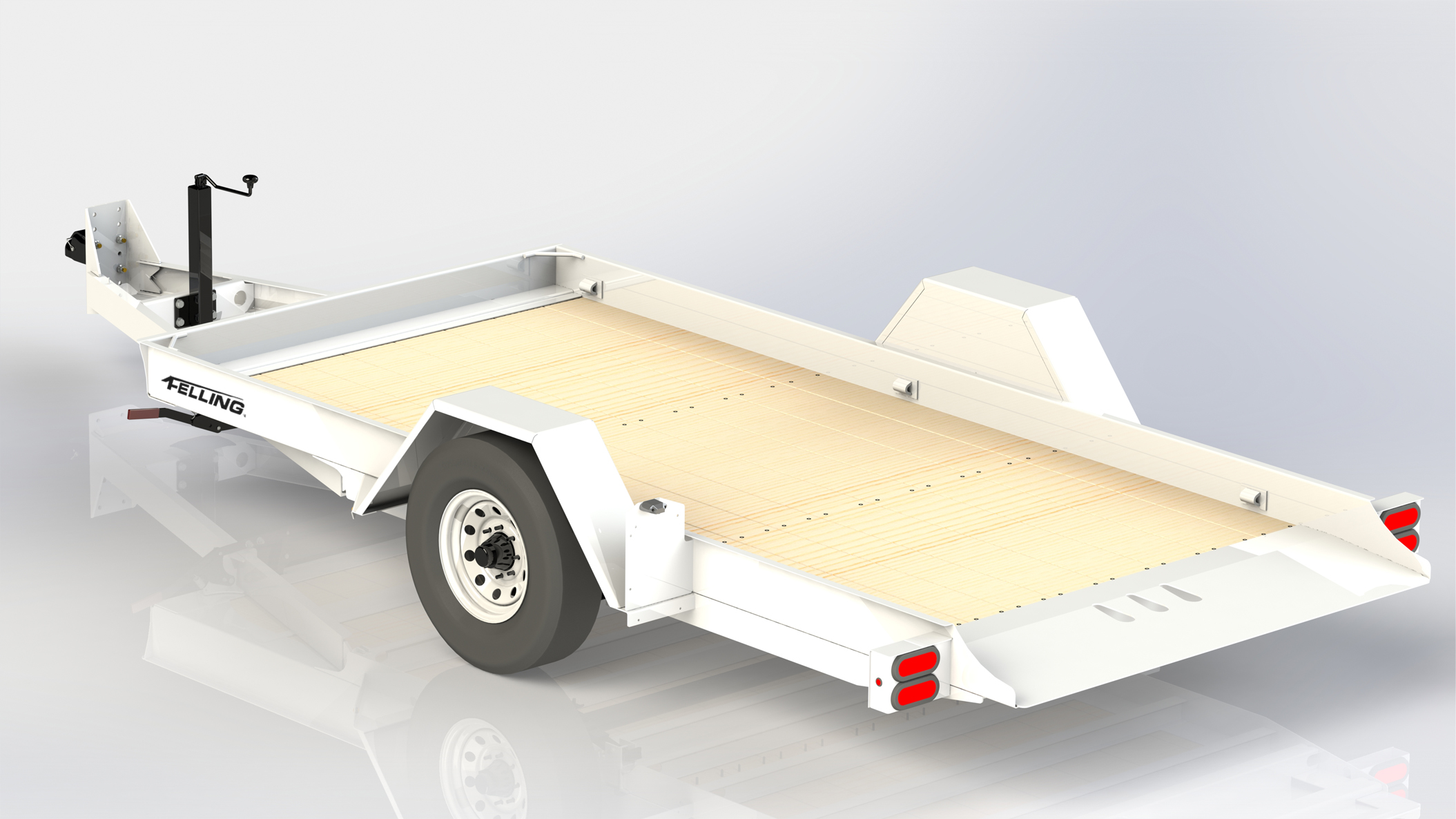 SAUK CENTRE, MINNESOTA– The Felling Trailers' drop-deck Pan Tilt model has undergone design modifications to increase operator ease of use and safety. The Pan Tilt is a gravity tilt trailer, using gravity and a center pivot point for tilting the trailer bed. Felling's Engineering team recently reviewed the Pan Tilt's design looking for ways to improve operator ease of use along with production efficiencies. Modifications have been made to the Pan Tilt's locking mechanism, lighting, license plate mount position, and location.
The tilt locking mechanism is the most notable of the modifications improving the production process, flexibility to function with optional features, and most importantly, operator ease of use. The previous locking mechanism was a purchased part that required modification and multiple latches dependent upon a trailer build's selected features, power up/down, or a toolbox, as it was mounted on the front of the trailer. "The goal was not to have a longer hitch length if they (the end-user) optioned cylinders (power up/down) or an extra latch for a toolbox, making the base design more modular, streamlining the manufacturing process," said Felling Trailers' Engineering Team Lead, Cathy Voge. The new locking mechanism is located on the front roadside of the trailer, operating as a lever that releases a lock bar located under the front deck frame. All the components for this locking system are sourced internally, improving fit and function.
Modifications completed with an emphasis on production efficiencies were lighting and the license plate mount. Lighting modifications reduced the number of weld components needed, replacing the front marker lights and mounting plate with bullet lights that mount into the hitch channel. The bullet light mounted into the hitch channel also provides better wiring protection. The license plate mount on the pan tilts is utilized across other Felling tilt deck lines. This style mount prominently displays the license plate without obstruction from the taillights or cargo being transported, promoting operator and towing safety.
To learn more about the Pan "Gravity" Tilt model line or other Felling Trailer solutions, visit www.felling.com or call 1-800-245-2809.
About Felling Trailers, Inc.
Felling Trailers is a family-owned and operated Full Line Trailer Manufacturer located in Central Minnesota. Started in 1974, Felling Trailers, Inc. has grown from a small shop to a factory and office complex that today covers over 349,000 square feet. Felling's pride and differentiation is its customized trailer division. Its engineers utilize the latest Industry-leading design techniques, and its experienced metal craftspeople use cutting-edge technology to turn its customers' conceptual trailer needs into tangible products. Felling has been providing innovative trailer solutions to the transportation industry for over 45 years. Felling Trailers' current capabilities allow them to provide a high-quality product that is distributed across North America and internationally. Felling Trailers, Inc. is an ISO 9001 Certified Quality Management System Company, WBENC-Certified WBE, and an Equal Opportunity Employer.
For more information, contact 1.800.245.2809, sales@felling.com, or visit them on the web at www.felling.com. Follow them on Twitter (@FellingTrailers), Facebook (Felling Trailers, Inc.), and Instagram.