2024 Keystone BIG Show Dates and Location Announced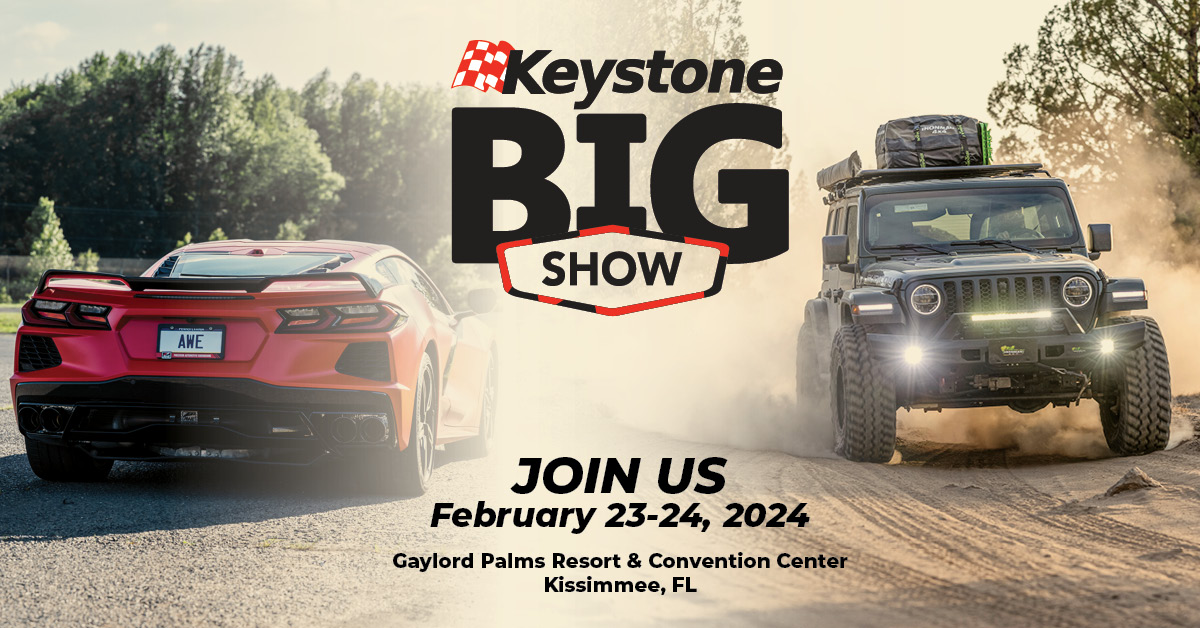 EXETER, PA - Keystone Automotive Operations, the leading distribution company for the automotive aftermarket announced that the 2024 BIG Show, its annual customer event, will be held February 23-24, 2024, at the Gaylord Palms Resort & Convention Center in Kissimmee, Florida.

"The BIG Show is much more than a trade show," said Keystone Automotive Operations President, Bill Rogers. "It is an exclusive opportunity for the industry to connect and discover new products and opportunities in a setting tailored to allow meaningful interactions between our customers, automotive shops and installers, and the aftermarket manufacturers and suppliers whose products they sell and install each day. With the increased popularity of categories such as overlanding, along with the introduction of many new and popular vehicles, we anticipate a great deal of interest from our customers who are eager to see what the aftermarket has to offer. We're seeing some exciting innovations in the industry and the 2024 BIG Show will be the perfect opportunity to showcase them."

Just nineteen miles from Orlando International Airport, Gaylord Palms Resort & Convention Center venue features a newly expanded meeting facility and room tower and more than 480,000 sq ft event space. The historic region offers a host of dining and entertainment options while local attractions such as Disney World, Epcot Center and Universal Studios Florida are just minutes away.

"From dining and shopping to on-site services and facilities, the Gaylord Palms Resort & Convention Center provides a relaxed and casual atmosphere allowing BIG Show attendees to have a first-class experience on and off the show floor," said Keystone Automotive Operations Events Manager, Kendra Hill. "Now, as the show comes to Florida for the first time and with the region offering a tremendous number of entertainment options, visitors can look forward to the possibilities of arriving a few days before the show or remaining afterwards to enjoy many of the area's wonderful attractions."

The annual customer-only, business-to-business networking event features receptions, a vast array of automotive aftermarket exhibiter displays, new products, show vehicles and education along with substantial show-only sales and promotions.
"While The BIG Show combines impactful presentations, product features, manufacturer displays, and social functions into the event, our priority is ensuring our customers enjoy a memorable, unrivaled experience from the time they arrive until they return home," added Rogers. "We had incredible attendance and enthusiasm in Colorado at our 2023 show, and with
Kissimmee and the greater Orlando region being one of the world's great entertainment centers, we are looking forward to hosting what we expect to be a capacity event in Florida next February."
For more information, please visit keystonebigshow.com or contact your Keystone Representative.

About Keystone Automotive Operations:
Keystone Automotive Operations is the leading distributor and marketer of automotive aftermarket
products and services, uniquely positioned to offer customers and suppliers substantial scale, the most
comprehensive inventory selection in the industry, high levels of customer service, and innovative
marketing support. Keystone is committed to expanding its offerings to meet the ever-growing needs of
its customer base, providing them everything they need, when they need it.