UWS Tool Boxes Sawn in Half, Pressure-Washed, Fully Tested
Date posted
December 1, 2020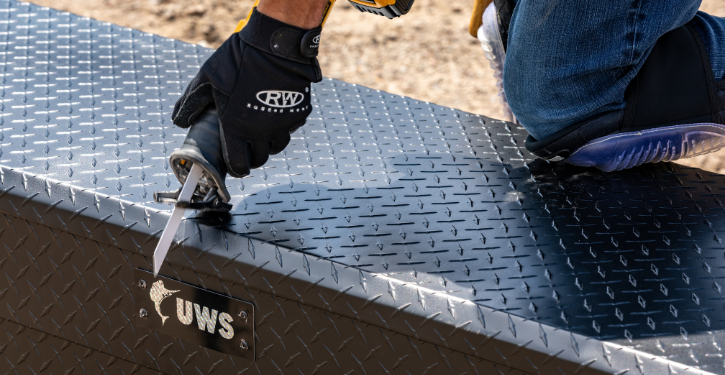 EAU CLAIRE, Wis. - UWS, a leading manufacturer and designer of truck accessories, launched an all-new campaign to showcase its RigidCore™ foam-filled lid.
The campaign featured a number of videos in which UWS boxes were put to the test and subjected to power saws, tire spray, pressure washers and the entire weight of a full-size truck. RigidCore™ is a patented technology that gives UWS boxes a strength and integrity above the rest. It hinges around the concept of filling the entire extra-thick aluminum lid with a hardening foam. This prevents warping and binding issues, promotes smooth operation, and proves itself strong enough to withstand the entire weight of a modern pickup truck. To test its RigidCore™ lid to the fullest, UWS not only dropped a pickup truck on top, but also sawed a lid in half, sprayed the box with mud and followed it up with a stiff pressure-washing. Even UWS's scientists were surprised by the results.
For more information, please visit www.uwsta.com. To see the results for yourself, visit www.uwsta.com/rigidcore.
---
About UWS
UWS, a CURT Group brand and subsidiary of Lippert Components, Inc., is a leading manufacturer and designer of USA-assembled truck tool boxes and accessories. Its products are built to the highest quality standards, offering tough and reliable storage solutions for professional tradesmen and truck enthusiasts alike. It offers a full range of truck tool boxes, transfer tanks, chest boxes, dog boxes and other truck storage solutions.
---
Source: UWS Press Release