How to Update Your Member Compass Profile
Date posted
February 3, 2023
What is Member Compass?
Our NATDA Online Member Directory (Member Companss) is a benefit that helps members connect with other members for networking, referrals, and more.
To ensure that information is the most up-to-date, we need all members to keep their Member Compass profiles up to date.
What's in it for Dealerships:
Network to elevate the industry and support fellow dealers

Get promoted (complete profiles may be selected for dealer spotlight on the NATDA website, social media, and other communications

Easily find new manufacturers and vendors to provide quality products and services
Locate dealers to whom you can refer clientele should they move or need assistance while on the road.
What's in it for Manufacturers/Vendors
Help dealerships find you and your products/services

Promote discounts and special offers

Promote your social accounts

Connect with providers of products and service
Member Compass profiles are only accessible to current members, as they are part of your member benefits.

How do I Access My Member Compass Profile?

You can access your Member Compass profile at natda.org/member-compass.
If you are logged out of our member system, the login link is located in the upper right-hand corner of the screen. (Located in the black bar above the navigation menu on your desktop or within the main menu on mobile devices.)
How to Update Your Profile

All individuals can edit their profile information - such as contact information and custom fields. Individuals must contact the association for data cleanliness and security reasons to change their first or last name.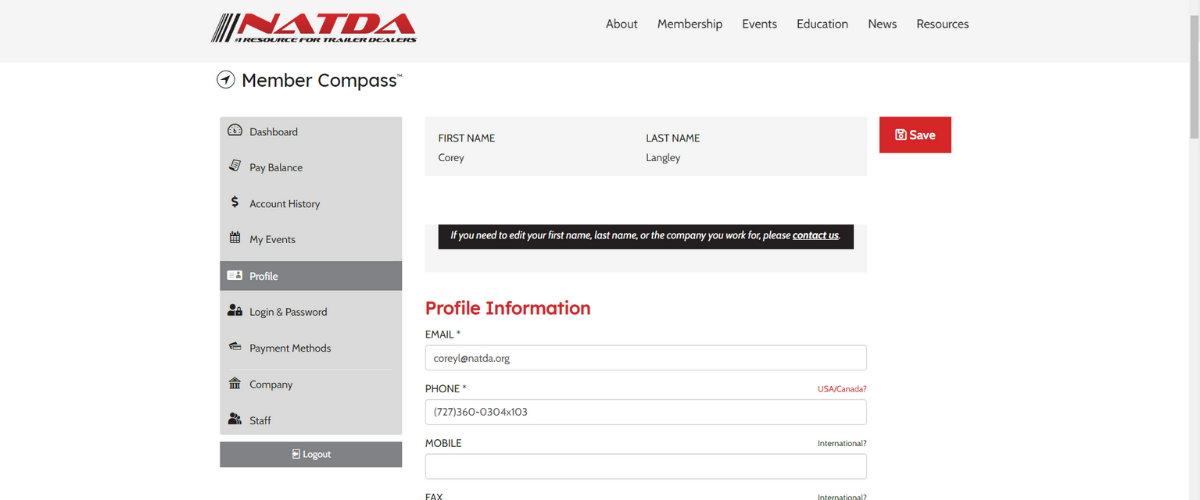 What Information is Displayed in the Directory?
For the best and most complete profile, be sure the following is up to date.
Name

Logo/Headshot

Phone number

Business Address (Pulled from Shipping Address fields)

Email

Social media links

Member type
Optional Promotional Fields for Companies
Member Compass offers the following fields to promote your products or services further.
Special Offers - Offering members-only or first-time customer packages or discounts? This is the place to enter that information.
Directory Gallery - Let others see what you offer by uploading images of products, services, locations, and more.
Organization Overview - Describe your business and your value to customers. Be sure to use relevant keywords related to your products/services so others can find you in search.
If you need any more help with Member Compass, please don't hesitate to contact member services at (727) 360-0304 x108.