Keystone Automotive Operations Celebrates 50th Anniversary at 2022 BIG Show
Date posted
April 20, 2022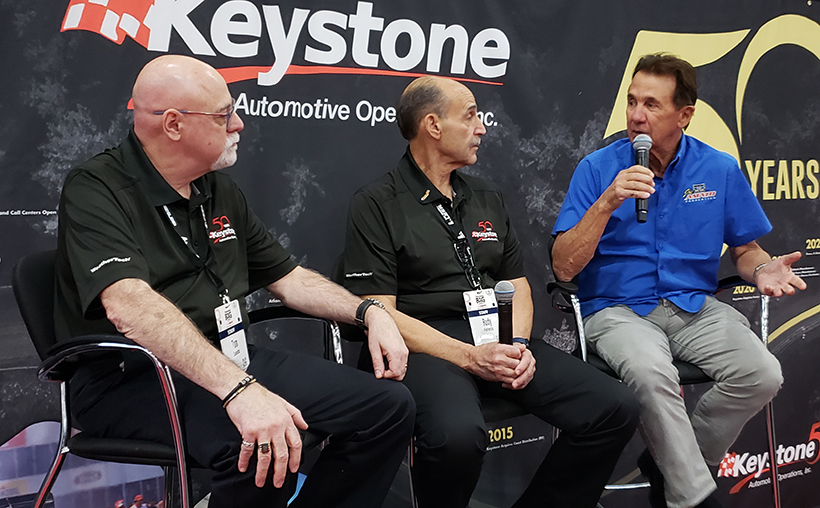 ---
EXETER, Penn. – The automotive aftermarket industry gathered in Grapevine, Texas to join the leading distributer and marketer of aftermarket products and services in celebrating its 50th anniversary at the 2022 Keystone Automotive Operations BIG Show presented by Weather Guard , March 25–26.
The 50-year Legacy Celebration presentation at the Gaylord Texan Resort and Convention Center ballroom was the first activity of a full show agenda that included exhibiter displays, more than 100 show vehicles and product education along with substantial show-only sales and promotions within the world-class Gaylord Texan facilities.
"What a show!" exclaimed Keystone Automotive Operations Vice President of Sales, Fred Petrivelli. "With more customers in attendance than we've seen in the past few years, and the show floor overflowing with the industry's leading suppliers, the energy and enthusiasm throughout the event was incredible. We saw record sales, but most importantly, we have been extremely grateful to receive so much positive feedback from everyone who had a fantastic time with us in Texas."
Opening the two-day annual customer event honoring company founder, Joe Amato alongside an impressive roster of associates, customers, industry suppliers, manufacturers and organizations, the company paid homage to many of those who had contributed to its success for the last five decades.
"With a history spanning fifty years, there have been a tremendous number of people that have been a part of Keystone's legacy," said Keystone Automotive Operations President, Bill Rogers. "Beginning with our foundation of associates who have been with us thirty years or more, and then extending to customers and suppliers who we've had partnerships for decades, this event provided us with a wonderful opportunity to recognize them for their important contributions to the success of our business."
Sharing the Legacy Celebration stage with those who contribute throughout Keystone's infancy and growth, the affable Amato, introduced by Keystone Automotive Vice President of Category Management, Larry Montante, stole the show as he discussed the company's early days along with his thoughts on developing the business as he was pursuing what was to become a legendary drag racing career.
"His is a true American success story," recounted Montante, himself an honoree for his extensive tenure with the company. "It was an honor to bring him to the BIG Show to see what his legacy with our business has become. Whether with Keystone, in racing, or in his current involvement in real estate, Joe Amato has the Midas touch and has found success at every juncture along the way. He has had such a significant influence on this industry, it was special for us all to have this time to share with him at the show."
---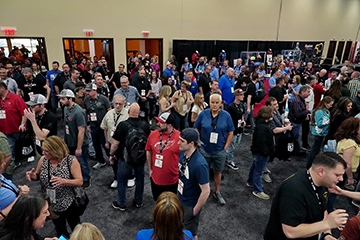 ---
As part of the show activities, attendees were treated to a host of networking opportunities, a Friday night concert presented by Weather Guard, and a Saturday evening reception in addition to 50th Anniversary activities. Special displays included an Amato's championship winning NHRA dragster as well as a unique collection of memorabilia from his personal collection alongside a variety of items representing the history of Keystone Automotive Operations over the many years.
"Beginning with Joe Amato, there's something very special about this company, its history and the people that have made it the success it is," added Rogers. "This BIG Show, while spending some time with our customers and suppliers at a wonderful facility, gave us the unique opportunity to look back at how we got to where we are and honor some of those who have impacted the business over the years. An occasion like this doesn't come around very often and it was our privilege to share it with everyone at The BIG Show."
For those unable to attend the 2022 BIG Show, Keystone will expand the show's reach as they once again present a virtual BIG Show following the live event, April 4-8. This virtual show will be the third year of the online event, allowing participants the chance to participate in many of the same offers and promotions as the live event while engaging with presenting suppliers in a safe and convenient online format.
For more information, please visit keystonebigshow.com or contact your Keystone Representative.

About Keystone Automotive Operations
Keystone Automotive Operations is a leading distributor and marketer of automotive aftermarket products and services, uniquely positioned to offer customers and suppliers substantial scale, the most comprehensive inventory selection in the industry, high levels of customer service, and innovative marketing support. Keystone is committed to expanding its offerings to meet the ever-growing needs of its customer base, providing them everything they need, when they need it.