Felling Trailers Adds Larson Cable Trailers to Product Offering
Date posted
August 17, 2023

(SAUK CENTRE, MINNESOTA, August 15th, 2023) – Felling Trailers, Inc. adds Larson Cable Trailers to their product offering with the, LCT-7500, LCT-5620, and LCT-5700. A division of Felling Trailers, acquired in May of 2021, Larson Cable Trailers, Inc. is a known leader in fiber-optic cable-handling trailer products. Effective August 1st, 2023, the Felling Trailers sales team is now offering the LCT models as part of their expansive product line. "We feel this move will allow us to provide enhanced regional dealer support, providing training and product support," said Nathan Uphus, Felling Trailers sales manager. With the two companies working together with seven regional sales managers, we can now provide sales and product support nationwide. This will, in turn, allow more time for Larson's Tech Training Specialists, Rick Larson, and Mike Young, to focus on end-user support.
The two companies will be exhibiting in tandem at this year's Utility Expo, taking place in Louisville, KY, Sept. 26th-28th. Located in the K-Lot, Felling Trailers, Inc., in booth K125, will display a selection of utility underground products from their drill series and utility telecom model lines. Located next door to Felling in booth K123, Larson Cable Trailers, Inc. will provide product demonstrations with their core models, LCT-7500 and LCT-5620.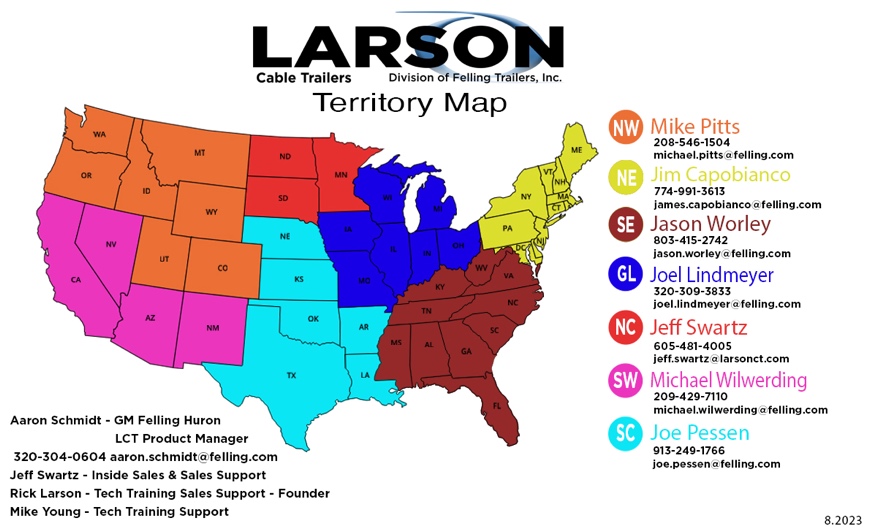 Regional Sales Support Contacts
North Central – Jeff Swartz 605-481-4005
Great Lakes – Joel Lindmeyer 320-309-3833
South Central – Joe Pessen 913-249-1766
Northeast – Jim Capobianco 774-991-3613
Southeast – Jason Worley 803-415-2742
Northwest – Mike Pitts 208-546-1504
Southwest – Michael Wilwerding 209-429-7110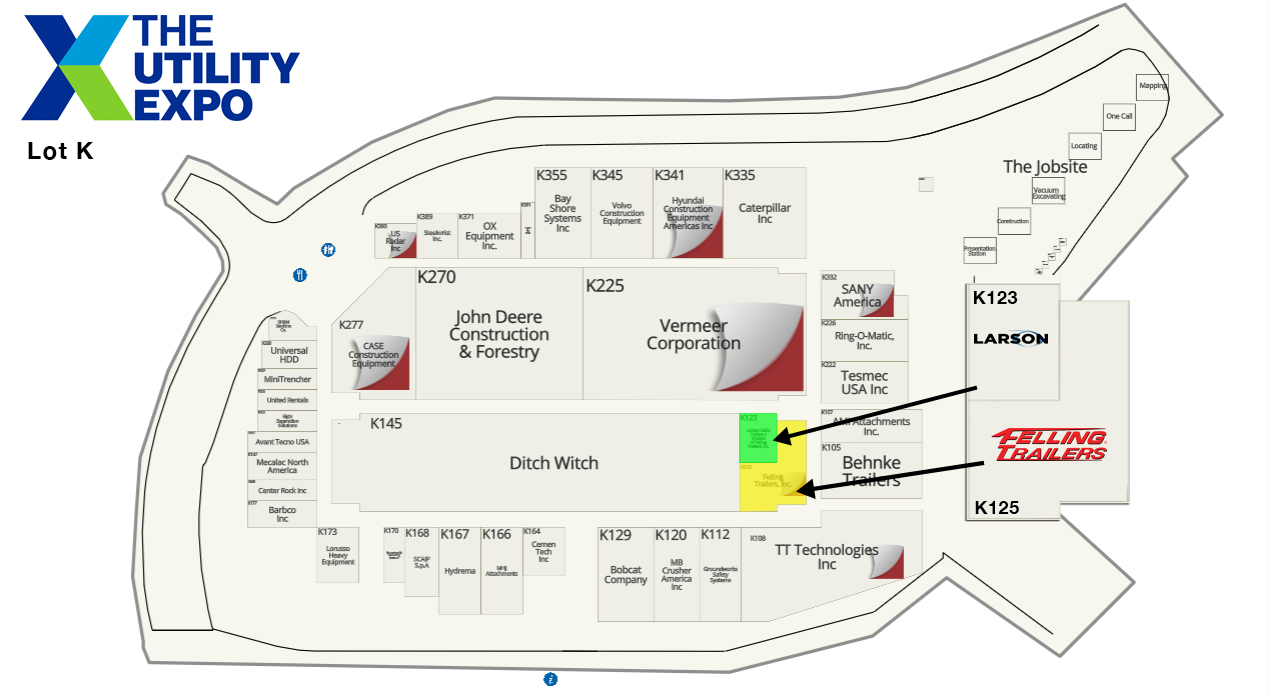 About Felling Trailers, Inc.
Felling Trailers is a family-owned and operated Full Line Trailer Manufacturer located in Central
Minnesota. Started in 1974, Felling Trailers, Inc. has grown from a small shop to a factory and office
complex that today covers over 441,000 square feet. Felling's pride and differentiation is its customized trailer division. Its engineers utilize the latest Industry-leading design techniques, and its experienced metal craftspeople use cutting-edge technology to turn its customers' conceptual trailer needs into tangible products. Felling has been providing innovative trailer solutions to the transportation industry for nearly 50 years. Felling Trailers' current capabilities allow them to provide a high-quality product that is distributed across North America and internationally. Felling Trailers, Inc. is an ISO 9001 Quality Management System Certified company, WBENCE-Certified WBE company, and an Equal Opportunity Employer.
For more information, contact 1.800.245.2809, sales@felling.com, or visit them on the web at www.felling.com. You can also follow them on Twitter (@FellingTrailers), Facebook (felling trailers), and Youtube (FellingTrailersINC).
About Larson Cable Trailers, Inc. (Division of Felling Trailers, Inc.)
Founded in 2000, Larson Cable Trailers is a cable trailer manufacturer providing solutions for the power and fiber optic industries, serving public/private contractors, rural telephone/electric co-ops, and city municipalities. Offering three core models (LCT-7500, LCT-5620, and LCT-5700), each is built to user specifications with advanced designs to provide an efficient, safe, and easy-to-use cable trailer. For more information, contact 1.866.250.7634, sales@larsonct.com, or visit them on the web at www.larsoncabletrailers.com. You can follow them on Facebook (LarsonCT) and Youtube (LarsonCableTrailers).