Aqua-Hot Announces New Gen 1 Compact Forced Air Heating and Water System
Date posted
December 9, 2022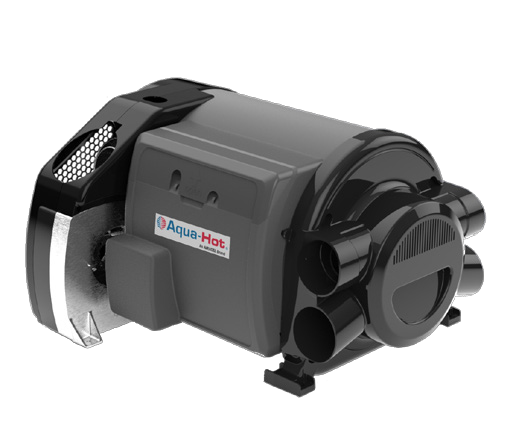 FREDERICK, Colo., Dec. 7, 2022 – Aqua-Hot, an Airxcel® brand, introduces the Aqua-Hot Gen 1 Compact Forced Air Heating and Water System. The new Gen 1 system was unveiled today at Airxcel's December Product Showcase in Elkhart, Indiana.
The Gen 1 is designed to be a space-saving single appliance that provides a comfortable environment in recreational vehicles as well as 10L of hot water. Warm air flows to the vehicle's interior spaces through four air outlets, where it is distributed efficiently to ensure a comfortable climate. Gen 1 is available in three versions – diesel, gasoline, or propane – and is specifically designed for recreational vehicles. It utilizes RV-C Open Source intelligence, so it can easily integrate the total control of the unit into the RV's general control panel.
"The introduction of the Gen 1 marks the entry into a new market for Aqua-Hot. It can be installed on most types of RVs including styles of Class C motorhomes, Class B camper vans, travel trailers, fifth wheels, truck campers, and other comparable sized vehicles," said Mark Davis, business unit manager for Aqua-Hot. "Gen 1 builds upon Aqua-Hot's legacy as a trusted partner for luxury comfort heating systems. These units are competitively priced with other similar products on the market and are designed for easy integration into a new RV or to replace an existing system."
For more information on the new Gen 1 system and other innovations exhibited by Aqua-Hot at Airxcel's December Product Showcase visit the Aqua-Hot website.
Part of the Airxcel family of trusted companies, Aqua-Hot Heating Systems has manufactured innovative hydronic heating solutions for RVs since 1984. Highly adaptable to a wide range of applications, its products run on diesel, gasoline or propane fuels. AquaHot.com
Contact: Airxcel Marketing, Mary Bourassa, 7501 Miller Dr., Frederick, CO 80504. 720-826-9226; mbourassa@airxcel.com.