Gen-Y Hitch Announces New REBEL Hitch
Date posted
April 16, 2021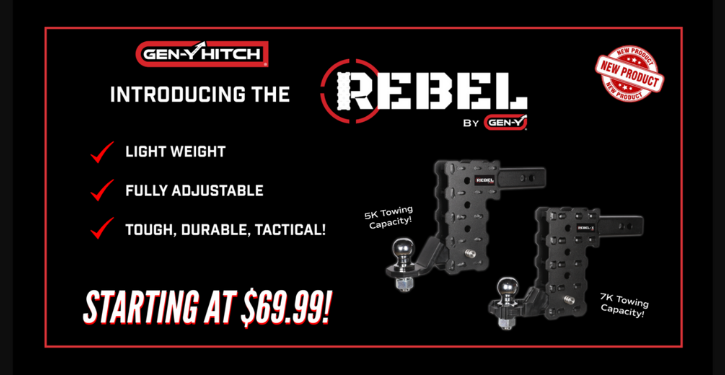 ---
NAPPANEE, Ind. — Gen-Y Hitch announced the new competitively priced, versatile REBEL hitch, designed for lighter duty towing with ½ ton trucks and SUVs.
The REBEL hitch is a competitively priced hitch, perfect for lighter duty towing. This hitch is compatible with ½ ton trucks and SUVs. GEN-Y's innovative stacked tube design allows customers to adjust the ball mount up or down in order to achieve the right amount of drop every time. It's also capable of being used in a drop or rise position. This makes it reliable as well as versatile. Gen-Y Hitch also offers accessories such as a platinum ball mount, economy ball mount, sway control head and a hitch step. This hitch is an excellent option for all your towing needs.
For further information, please visit www.genyhitch.com.
About Gen-Y Hitch
Gen-Y Hitch was formed in 2011 by Carl Borkholder. The foundations of Gen-Y Hitch were based upon the involvement of Carl in the recreational vehicle industry, which drove home the inconvenience of not having a hitch system that was compatible among all the trucks and towable units necessary for the company's operation. As a result of this incompatibility, crews were constantly forced to make special arrangements to make sure their vehicle could pull the particular trailer necessary for a particular job. Based upon this experience, Carl began to design an adjustable tri-ball/pintle combination hitch which allowed a truck to tow multiple different trailers. The result of this work was the development of the patented Gen-Y Hitch. Gen-Y Hitch has continued to develop the Gen-Y Hitch line, which currently encompasses eight Class IV hitches as well as 3 Class V models.
---
Source: Gen-Y Hitch Press Release