Dicor Announces New Gunnable Butyl and Surge Protection Products for the RV Aftermarket
Date posted
February 22, 2023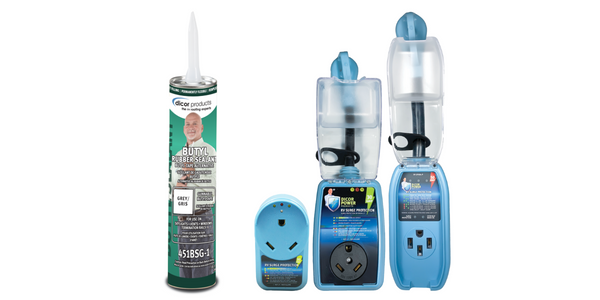 ELKHART, Ind., Feb. 15, 2023 – Dicor Products, an AIRXCEL® brand, has launched two new products for the RV aftermarket.

Gunnable Butyl Rubber Sealant is a hassle-free, mess-free butyl sealant alternative to conventional butyl tape that is perfect for installing and sealing roof accessories. It creates a strong, air and water tight seal that resists degradation and can be used on skylights, vents, windows and termination rails. Faster and easier than Butyl tape, it can adhere to TPO, EPDM, PVC, glass, metals, aluminum, concrete, wood, and some plastics. It resists weathering and cracking and cures to a putty-like consistency. If any product squeezes out on the membrane, you can go over it with 501 self-leveling lap sealant.

RV Surge Protectors by Dicor Power will help protect your RV investment from dangerous voltage levels or power surges. Available in 30 amp plug, 30 amp pigtail and 50 amp pigtail, each surge protector comes with visible diagnostic lights to indicate a wiring fault and an automatic shut off/on designed to detect power spikes or drops that could harm components in your RV. If a surge or drop is detected, the RV Surge Protector will automatically shut off power to the box before it travels to your RV or appliance.

"These two products give RV owners tools that they need to protect their vehicles. Gunnable Butyl is easy to use, easy to store, and a more user-friendly approach to traditional butyl. If you need to repair or replace a vent or window, this product creates a strong seal and leaves a seamless finish," said Brett Motheral, Director of Aftermarket Sales, Dicor. "The RV Surge Protectors will help protect your RV and its components from dangerous power surges or drops, which could be caused by faulty hookups or weather-related events."

Dicor Gunnable Butyl Rubber Sealant and RV Surge Protectors by Dicor Power are available at your preferred wholesale distributor.
About Dicor: Dicor Products, a leading supplier of component products to RV manufacturers since 1984, is most notable as a supplier of premium roofing products. The Dicor Products brand is also very well established in the RV aftermarket, where we are well known for roofing repair and care products. Visit https://dicorproducts.com/ to learn more.