ATC Breaks Ground on New HQ Facility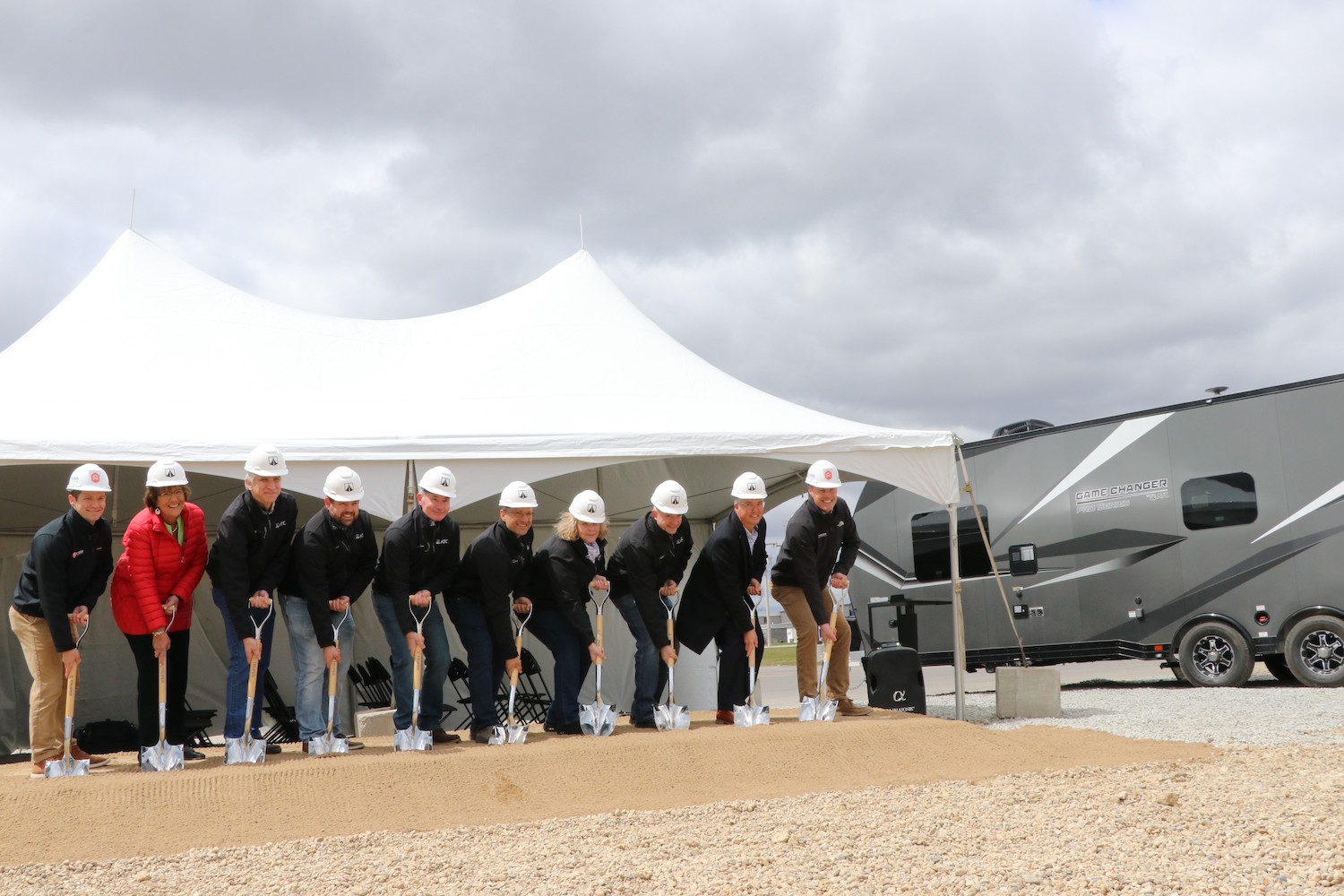 NAPPANEE, Ind. – Aluminum Trailer Company (ATC) broke ground on a new 221,000 square-foot facility at its home in Nappanee, Ind., which will be the new location for the company's headquarters as well as its RV division.
TC hasn't been involved in making RVs all that long, but in a relatively short time demand for its toy haulers – the Game Changer and Game Changer PRO – has grown tremendously, according to President and CEO Robert Paden.
ATC celebrates the groundbreaking ceremony for the new facility in Nappanee, Ind., with Robert Paden, CEO; Congresswoman Jackie Walorski; Nappanee Mayor Phil Jenkins; and representatives from Yoder Construction.
"It's really taken off for us. We actually got into it slowly with a toy hauler product line based on our aluminum design and construction and it's been snowballing," said Paden, who has been with the company five years. "(We) gained a lot of speed and now it's approaching half of our business and is constrained by capacity, so this is going to be dedicated solely to the construction of the RV product line."
Manufacturing in the new building should begin sometime in the fourth quarter, Paden said, and the space for the company's corporate offices, including sales and marketing, should be finished by the end of the first quarter next year.
The new building at 5225 E. Market St. is being built by Yoder Construction. This new plant is in addition to the other three facilities ATC has in the Nappanee area, which total more than 200,000 square feet among them. All are within about five miles of each other, Paden said. The company's current head count is about 440, and once the new facility is completed it will create the need for another 150 to 200 employees.
ATC's growth has accelerated significantly in the past couple of years, Paden said, due to a strategic change it made in its business model.
"It's actually a very important shift for us," Paden said. "Historically, we have gained market share and customer and brand loyalty by customizing trailers. However, we reached a tipping point where it was no longer scalable. There was no leverage to be had in customizing every trailer at the volumes that were demanded of us so, about two years ago, at the end of 2019, we decided to shift our business model to be a pure OEM. In other words, we would design and deliver product for target customers in different market segments, whether it be cargo, car hauler or commercial on the trailer side, or the RV side, based on an intimacy with the market. In other words, understanding what the end customers' desired application would be for the product. And it has taken off. It has completely changed our business."
Going from building all-custom trailers and RVs did cost the company some business initially, Paden said, but that was more than made up for with the doors the new strategy opened.
"We probably had about 15 percent of our dealer-partners move away from us because they just wanted the customization," Paden said. "Fortunately for us, we were able to sell and incorporate as partners in this process our largest dealers, and so they've helped us tremendously. It's also opened the market to an entire set of dealers and customers that we didn't have access to before. And that's what we were really going after."
Paden noted that although the company is not custom building anymore, it does make its trailers "configurable," meaning that things like cabinets, walls and the like can be moved around – within limits, of course – depending on what the customer wants.
"We will upfit it after we build the new product," Paden said. "And in anticipation of that we built the trailer to accommodate that sort of aftermarket upfit."
For more information, please visit atctrailers.com.
About Aluminum Trailer Company
Aluminum Trailer Company (ATC) was founded by Steve Brenneman in 1999 when he decided there must be a better way to build and sell utility trailers than the one-size-fits-all approach. The company chose to compete on value, working with dealers to develop specialty trailer models that enabled its success for many years. Now, ATC is working hard to better understand the market, and which products and services will delight its customers.