Aqua-Hot Announces New Floor Heating Kit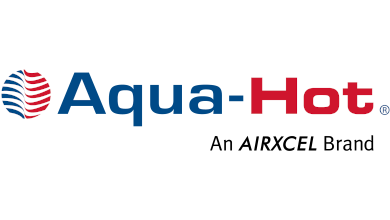 FREDERICK, Colo., June 27, 2023 – Aqua-Hot, an Airxcel® brand, has introduced a new floor heating kit expanding its 100-series heating system offerings for Class B and overland vehicles. The floor heating kit allows builders to connect the on board Aqua-Hot 125 hydronic heating system to any pex-based flooring system for radiant in-floor heating.
"The Aqua-Hot 125 provides heat and on-demand hot water, and with this new accessory kit, customers can also enjoy the luxury of a heated floor powered by the quiet and efficient performance of an Aqua-Hot," said Mark Davis, business unit manager for Aqua-Hot. "We continually strive to find ways to improve the RV experience, and this new product adds an elevated layer of comfort for RV enthusiasts."
The in-floor heating operates as its own zone in the vehicle controlled by the Aqua-Hot touch screen controller. It installs out of sight and is whisper quiet. The Aqua-Hot floor heating accessory kit includes the following:
Mixing valve

Quiet, powerful circulation pump

Non-return check valve

Thermistor

All clamps & fittings needed for install
Find additional information on the Aqua-Hot in-floor heating accessory kit on the Aqua-Hot website or by contacting the Aqua-Hot business development team.
Part of the Airxcel family of trusted companies, Aqua-Hot Heating Systems has manufactured innovative hydronic heating solutions for RVs since 1984. Highly adaptable to a wide variety of applications, its products run on diesel, gasoline, or propane fuels. AquaHot.com
Contact: Airxcel Marketing, Mary Bourassa, 7501 Miller Dr., Frederick, CO 80504. 720-826-9226; mbourassa@airxcel.com