ASA Electronics® and Tristar Manufacturing Partner to Offer iN·Command® on Every Trailer
Date posted
November 8, 2022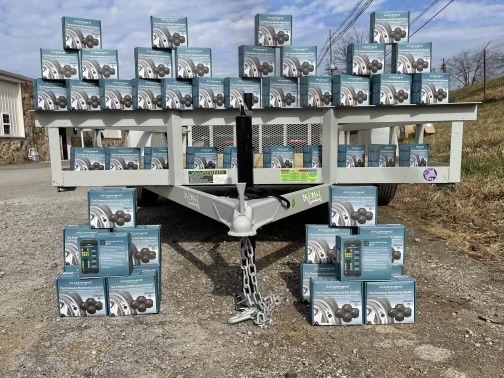 ELKHART, IN. – ASA Electronics® launches a collaboration with Tristar Manufacturing to offer customers a safer experience with Tire Pressure Monitoring Systems (TPMS) by iN·Command®. Tristar Manufacturing prides itself on delivering to market a variety of USA-made trailers, including Utility, Dump, and Goosenecks. The company has positioned itself as an innovative leader while remaining safety-conscious.
"Partnering with ASA Electronics aligns with our mission to ensure the safety of trailer users," says Mike Cheek, Chairman at Tristar Manufacturing. "Every trailer owner deserves to know the condition of their tires. We have it on our cars, and we should have it on our trailers. We are proud to partner with ASA as the leading manufacturer of TPMS.Tristar Manufacturing is the first trailer manufacturer to install TPMS on every unit across all product lines, making it standard for every customer.'

Jeff Gray, VP of the Trailer Division at ASA, explains that the partnership will play a tremendous part in helping keep people safe. "Making TPMS a standard feature on every trailer they build, from the entry-level utility trailer through their whole lineup, just shows Tristar's commitment to safety," says Gray. "TPMS has been a standard feature in the automotive world for over a decade, and we are all accustomed to having a sense of security for our personal vehicles. We are thrilled to partner with a company that values safety just as much as we do."

The iN·Command® TPMS system is equipped with a Bluetooth® repeater that strengthens the signal, enabling its use on longer trailers. This system provides the driver with information on the temperature and pressure of each tire, sending mobile alerts when it falls outside of optimal ranges. A data record is stored to establish individual tire history for identifying potential problematic tires over time.
ASA Electronics® has been designing and manufacturing mobile electronic products for the Marine, RV, PowerSports, Agricultural, Construction, Commercial Vehicle, and Bus industries since 1977. Their proprietary brands are JENSEN®, JENSEN Marine®, JENSEN Heavy Duty®, iN·Command®, Voyager®, and ADVENT® Air. ASA is also a distributor in specialty markets for SiriusXM® Satellite Radio, Polk Ultramarine®, Klipsch®, and XKGLOW® products. For more information, please visit www.ASAElectronics.com.