Dealer Badge Registration is Open!
The registration process for the 2023 NATDA Trailer Show has changed! Please see below for instructions on registering.
Access the dealer registration site here:  REGISTER NOW 
---
Not a dealer? Access exhibitor registration here:  EXHIBITOR REGISTRATION
---
Step 1: Start typing in your company name and select it from the drop down when it appears.  If your company name does not appear, please contact us at 727-360-0304 x108 or leanna@natda.org.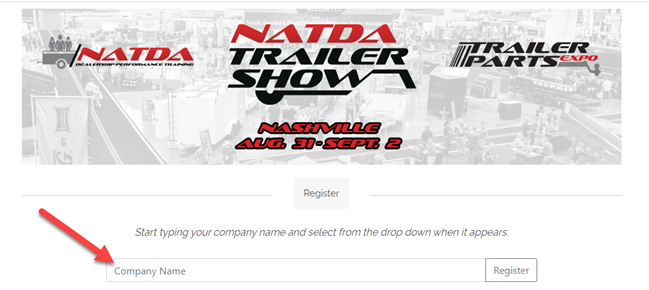 ---
Step 2: If you receive a message stating that you are not a current NATDA member and you believe that you are, please contact us at 727-360-0304 x108 or leanna@natda.org.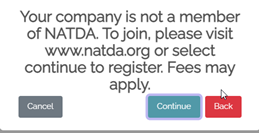 ---
Step 3: Follow the screen prompts to register your first employee.  Note that you will be able to add additional employees, guests/spouses, and minors AFTER you register your first employee.   
IMPORTANT NOTE: The system will prompt you to provide a unique email address for each individual (personal email accounts are permitted).  You will also need to create a password for each.  For convenience, if you are registering more than one person, we suggest you use the same password for everyone.  Creating a password will allow you to modify registrations at a later date if you need to do so.  
---
Step 4: Select education classes.  Please note that tickets for most classes are recommended but not required. Specific sessions require tickets, such as Workshops and the Keynote Luncheon.  We recommend that you select all sessions you wish to attend so that the appropriate tickets print for you when onsite.  Workshops and the Luncheon will sell out, so tickets will be required to attend.  For the remaining sessions, ticket holders will be given first right of access to classes and then interested individuals will be admitted once all tickets are collected.   
---
Step 5: Please review your confirmation email to ensure everything is correct. Your confirmation email will contain a link that will allow you to log into your registration should you need to make any changes such as adding/deleting any classes. 
---
Step 6: Bring your QR code confirmation to the show to scan/print your badges/tickets on site.  This will be resent closer to the show for your convenience.  
---
Step 7: If you have not already, be sure to book your hotel reservations through our official hotel partner and block.  Hotel reservations may be made by CLICKING HERE 
---
If you have any questions regarding the registration process, please reach out to LeAnna at 727-360-0304 x108 or leanna@natda.org.